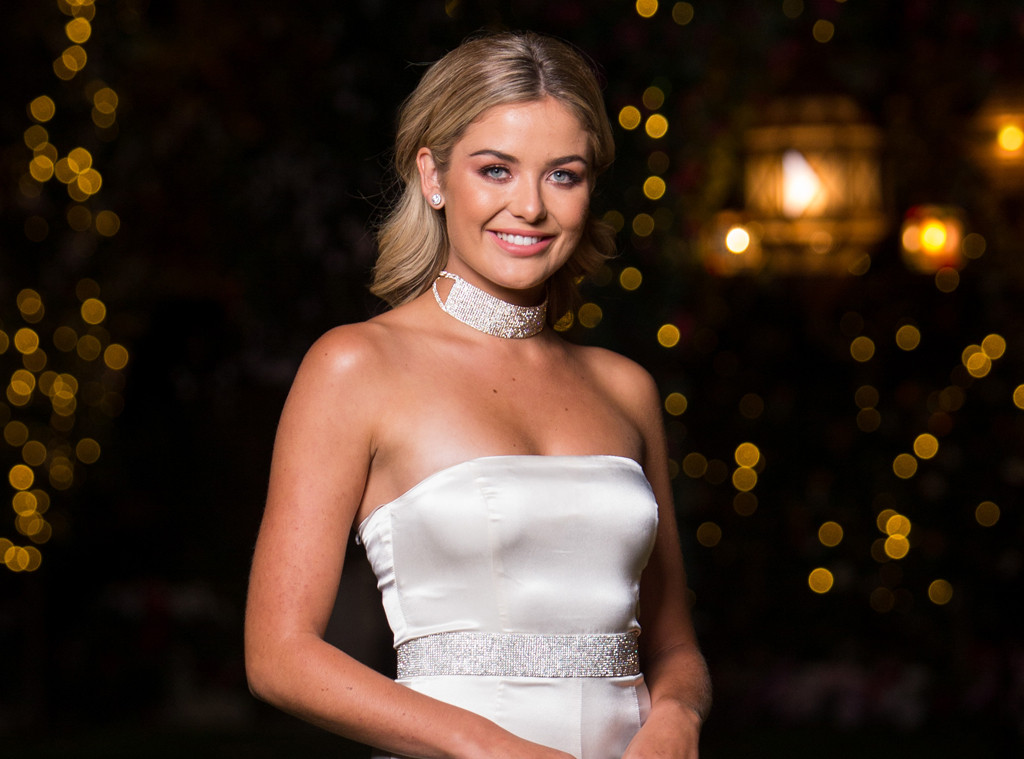 Ten
The countdown to The Bachelor Australia finale is on. 
Brittany Hockley and Brooke Blurton have emerged as the season 6 frontrunners, but there's one other bachelorette that might surprise us all by claiming the final rose: 25-year-old Sophie Tieman.
Although she's flown under the radar, Sophie has undeniable chemistry with Nick Cummins (exhibit A: their first meeting at the mansion), and has been at the centre of some unsubstantiated—but compelling—rumours.
We round up why underdog Sophie might just be this year's winner of The Bachelor.
She Has Moved to Sydney
Sophie recently relocated from Brisbane to Sydney—where, coincidentally, the Honey Badger also lives. The property valuer insists she's made the switch for work opportunities, but could being neighbours with Nick be the real reason?
The Pair Share a Very Steamy Kiss
Yes, Nick has locked lips with all the remaining contestants, but his upcoming spa kiss with Sophie teased in a Ten trailer looks particularly steamy. Producers even had to pull the couple apart during their date.
"I'm a red-blooded male, and when you're in a spa and you've been locked up for a couple of months and you've got some cracking sort on your lap and you're starting to connect on a few levels and you're starting to exchange saliva and one thing leads to another," Nick told NW. "You just grab 'em, put them up on the side of the pool and start having a kiss, and all of a sudden the producers come in and bloody separate you for some flamin' reason!"
Sophie Has Reportedly Been Spotted at Nick's Family's House
Has Sophie been having secret sleepovers? According to unconfirmed rumours, the bachelorette has been avoiding the paparazzi by staying at Nick's family's property in Sydney.
"She was seen staying at Nick's parent's house in Sydney," an unnamed source told Woman's Day. "They have a timeshare property and it was a way to see Nick without being spotted."
The Odds Are (Kind of) in Her Favour
Sophie still sits in a strong second place in the Sportsbet odds at $4.50—behind Brittany, but ahead of Brooke.
The Eliminated Contestants Love Her
Bachelorettes Shannon Baff, Ashlea Harvey and Blair Thomas all count Sophie among their picks to win.  
"She's bloody awesome," car care consultant Shannon told E! News. "She's always had trouble with expressing her emotions and she's really opening up a whole new part of herself. If she's willing to go to that extent Nick will acknowledge that."
Ashlea weighed in: "Sophie has that really catchy, bubbly personality. She's very rough and tough behind the scenes, but has a very demure personality." 
Frontrunner Brooke Reportedly Walks Out
The rumour mill is in overdrive that fan-favourite Brooke is set to walk out before the Bachelor finale, which would definitely help Sophie's chances. An unnamed source told Woman's Day that the 23-year-old youth worker left "because she was just not falling for him".
"She was rejecting his advances and realised her feelings weren't as strong as his. Given this, she felt it was fair that she took herself out of the equation," the source said.
Sophie's Win Would Be the Ultimate Twist
Were Nick and Sophie falling in love right under our noses the entire time while we were distracted by the Tripod drama and Cass Wood's very strong feelings? Sophie is the dark horse in this race—her winning would be a twist M. Night Shyamalan wouldn't even see coming. Bring it on.