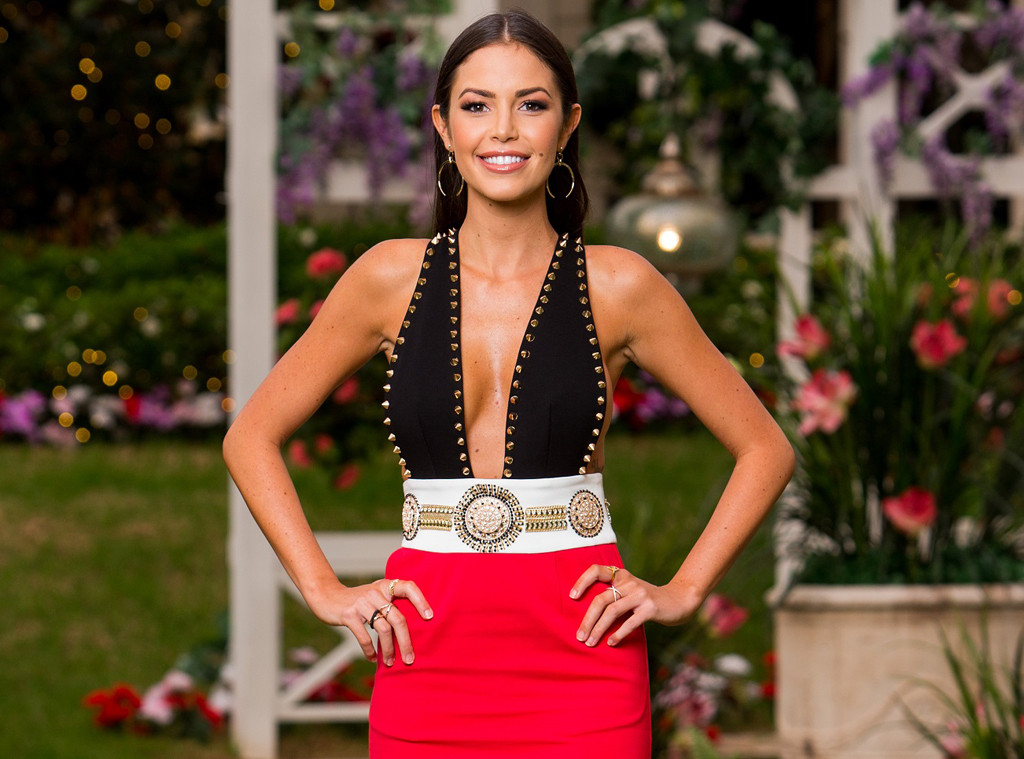 Ten
Tenille Favios has no regrets.
The Bachelor Australia contestant chose to leave the mansion during episode 10, deciding it was only a matter of time before Nick Cummins sent her packing. As the 25-year-old tells E! News, her move "was not pre-planned at all"—even though she had fled a cocktail party once before.
"Part of my decision to leave was me being realistic, knowing I was not going to form a connection of love by the end," she says. "I would have been the person going, 'I really like you and I want to see where this is going.' But I'm sure there would have been a girl next to me saying that they loved Nick, and they wanted to spend the rest of their life with him."
Tenille reveals the producers had one final suggestion before she left for good.
"They offered me to stay in the rose ceremony to see what might happen. Maybe I was being paranoid—I don't know," she says. "But I made that decision to leave, and I stuck by it. I don't regret it."
Tenille's shock exit on Thursday was not the first time she made headlines. In episode 7, she ripped off her mic and ran out of the cocktail party after a heated fight with Romy. She was pursued by a producer and a cameraman the entire time.
"That's why I kept saying, 'Get the cameras away from me.' And that's why I kept going further and further down the driveway. I could see them standing there and they were telling me that they weren't," she says. "But at the end of the day, it was made very clear that when the cameras are rolling—that's their content and they can do what they want."
The flight attendant insists the episode was an accurate portal of events, but says one thing didn't make it to air.
"I had two other girls that chimed in on me [during the fight] as well as Romy. You didn't see that. It was three against one," she tells E! News, declining to name names.
One name she will mention is Brittany, but for a very different reason. Tenille believes the radiographer might be the last bachelorette standing.  
"I really like the connection that Brittany and Nick have," she says. "Their timeline of what they're wanting in their futures really lines up. I can see that working out."
Post-reality TV, Tenille is "open to dating", but you won't finder her on Tinder.
"The lesson I've learnt is to put myself out there a bit more," she tells E! News. "But on Tinder? No! Although never say never. I don't know how desperate I'll get if I keep this single streak going."