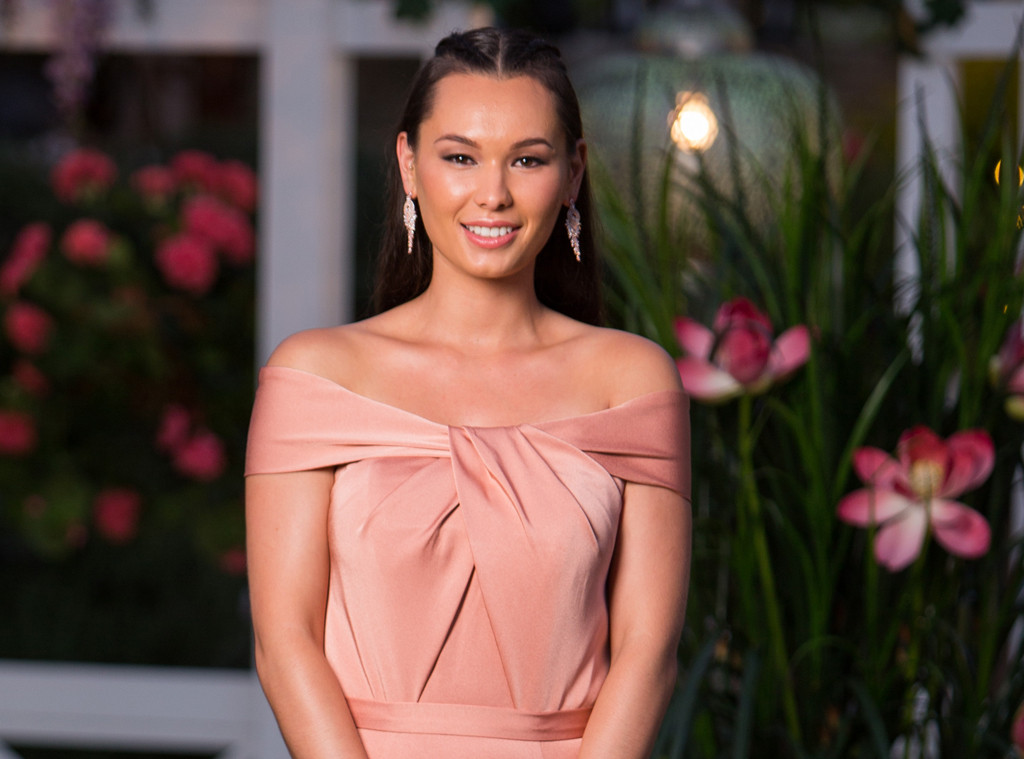 Ten
Even before she was booted from The Bachelor Australia mansion, fans were cheering for Vanessa Sunshine to become the next Bachelorette.
"Look, I am open to any opportunities that come my way," she tells E! News after her August 30 elimination. "It's probably something people haven't seen before. I think I would be good. I'm pretty cutthroat and honest."
If she did become the next Bachelorette after Ali Oetjen, Vanessa has one request for her potential suitors.
"Maybe a bit more of an ethnically diverse spread," she says. "I like what I like, and I suppose in this hypothetical situation I would figure it out in the moment."
On The Bachelor, the legal secretary was open about her lack of attraction to the moustachioed Nick Cummins—and even asked him if he'd accept a makeover in episode 6.
"Poor dude. I genuinely didn't know who Nick was and didn't realise that he was a celebrity. Obviously, I clicked on that he played football, but I don't know nothing about sport, so whatever," she says. "I never meant it in a malicious way when I said he needs a shave and a haircut. But then when I left, I realised, oh no, this is his trademark look. This is what he's known for. People love it and mimic it."
The 27-year-old also shut down reports about some contestants being told they'd score a spot on the Bachelor in Paradise cast if they stuck around on The Bachelor—despite not being impressed by the Honey Badger.  
"No, I was never approached about that and I don't think it's true, to be honest," she says. 
During the series, the bachelorette was unafraid to speak her mind—even describing her attitude as "I give zero f--ks" in an August 30 Instagram video—leading some fans to label her as the greatest The Bachelor Australia contestant ever. 
"I mean, you can't argue with that, right?" she laughs. "It's very flattering and I'm not going to question it."
And while she was a favourite with viewers, Romy and Cat took issue with her straight-shooting.
"It's not edited and they're not coerced into it at all," she says. "Romy, Cat and Alisha, they always seem to justify their behaviour by scapegoating other people. But the way I see it is those three girls get their self-worth and self-validation pretty much by belittling, berating and bullying other people."
Vanessa battled bullying long before her Bachelor days. In a 2016 Facebook post, she explained that her "physical attributes were not the same as those around me and this was commented on often" when she was growing up. 
"I don't really look at myself as an ethnicity. I'm obviously a mix. I'm Asian and European. As far as I'm aware," she tells E! News. "I suppose I just look different. I have different features, I have really high cheekbones. That was always commented on a lot when I was younger and it still is.
"I grew up in a very small town and there weren't really people who looked like me, so I didn't really understand. It's just an unfortunate reality that bullying does happen. It really sucks because it doesn't affect me anymore, but when I was growing up, definitely. It's like, why does it matter what I look like? It's a shame that people's words really can hurt sometimes."
She adds: "But I'm a lot older now, and I'm OK."