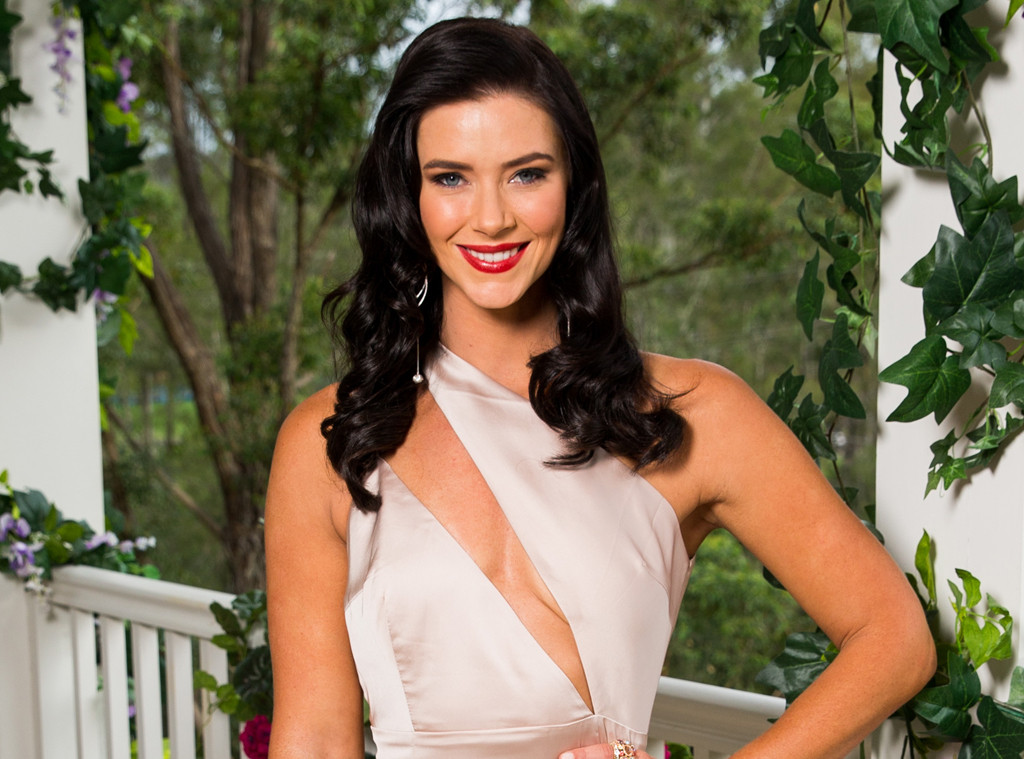 Ten
Move over Brooke, Cass and Shannon—there's another The Bachelor Australia contestant who is an unexpected frontrunner.
At this point, 30-year-old Brittany Hockley might be best known for her resemblance to Lorelai Gilmore, but she's actually a very strong contender.
The NSW radiographer describes herself as being "adventurous and optimistic" and shares many of the same values and aspirations as this year's Bachelor, Nick Cummins.
Below, we break down five reasons why Brittany might be the last woman standing.
She Spends a Lot Of One-On-One Time With Nick
Brittany hasn't had much camera time compared to youth worker Brooke or student Cass, but The Bachelor producers could be pulling a swifty on us.
A promo for what's to come this series, which aired during the premiere, featured a lot of Brittany. She can be seen flirting with a shirtless Nick, feeding a crocodile with him (classic date night activity), and gawking at him while wearing a green dress at a cocktail party.
She also hops on the Honey Badger's back in a field, and may or may not be the brunette who goes on a lighthouse date with him.
The Odds Are on Brittany's Side
Eagle-eyed fans think a friend's comment on Brooke's Facebook page—and her reaction to it—is a huge hint that she scores the final rose.
"Britt we are all enjoying the journey but just tell us what we really want....Am going heavy on sportsbet or not???" a friend reportedly wrote in response to an August 16 post from Brittany about The Bachelor. And—wait for it—Brittany seemingly liked the comment. 
Just one week into the series, Britt is already the bookies' favourite to win, coming in at $1.82 on Sportsbet. She's followed by 25-year-old Sophie at $3.50 and 23-year-old Brooke at $4.50.
Brittany Is Definitely This Bachelor's Type
Although this clue doesn't specifically point to Brittany, it definitely works in her favour. Speaking to Nova's Fitzy and Wippa on August 15, Nick implied the winner is a brunette.
"Have you got a type of girl? I mean if you look at past relationships, are they brunettes? Are they blondes? Are they outdoorsy type people or…?" host Michael 'Wippa' Wipfli asked.
"In the past, they have actually been sandy blonde… and that's why I've had a big changer," Nick replied.
Interesting. 
She Shares Nick's Adventurous Spirit
Nick revealed to E! News that the girl he ends up with must have an "adventurous spirit and say yes to things". His Instagram is filled with action-packed pics of fishing at Fraser Island, ice climbing in Banff, Canada, and doing the "In My Feelings" challenge in the Kimberley Region.
Brittany's Instagram tells a very similar story. She embarked on a trip of a lifetime in 2014 with her sister Sheri Hockley and visited more than 50 countries.
And, according to her The Bachelor bio, she's looking for "an outdoorsy bloke who loves being spontaneous and going on adventures". Tick, tick, tick.
They're Both From NSW Coastal Town Port Macquarie
While being born in the same city isn't the No. 1 reason to fall in love with someone, it certainly can't hurt. Both Brittany and Nick were born in Port Macquarie—and, as they joked in episode 1, probably met in preschool.
"Britt… I was chasing a Britt in preschool," the rugby player told her on the red carpet outside the mansion." 
"Actually I think you were the boy I was running from," Brittany replied. 
Find out if Nick can catch her when The Bachelor continues on Wednesdays and Thursdays at 7.30pm on Ten.