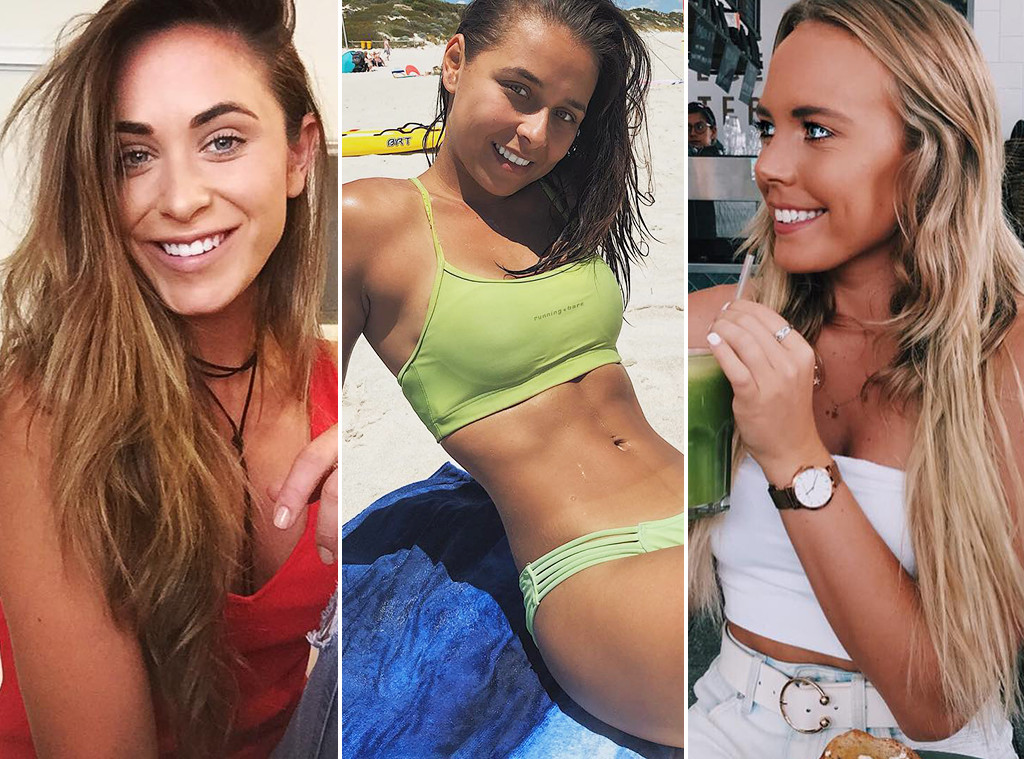 Instagram
So, you've analysed the Bachelor 2018 contestant bios and made your sweepstakes picks. Now, we've got the information you really want to know: How can I find all these suitors on Instagram?
Here's the lowdown on Nick Cummins' bachelorettes who currently have public Instagrams ready for your likes and follows:
ALEKSANDRA SEKULOSKA (@aleksandra.s16)
According to the 31-year-old yoga teacher's 'gram, she's all about festivals, fitness and nights out with the girls.
ALISHA AITKEN-RADBURN (@lish13)
The 25-year-old political advisor used to work for Bill Shorten. Per her Insta pics, she loves to travel and be involved in the Canberra community.
ASHLEA HARVEY (@ashlea_harvey)
Ashlea, 30, is a single mum and shares sweet pics with her son, as well as drool-worthy scenic shots on her Instagram. And, of course, selfies.
BLAIR THOMAS (@blair.j.tommy)
The 27-year-old sports teacher posts workout pics and, according to her bio, she has no time for "manipulating", "spiders", "birds" or "double standards".
BRITTANY HOCKLEY (@brittany_hockley)
The 30-year-old radiographer and self-described "perpetual wanderer" has an account filled with dreamy outings and gram-worthy outfit shots.
BROOKE BLURTON (@b_rooklynb)
Perth-based Brooke is into fitness and passionate about working with indigenous youth. She shares plenty of pics working out and travelling.
CASS WOOD (@casswood)
Sydneysider Cass loves the beach life. The 23-year-old student knew Nick before the show and her Instagram is full of bikini pics and sporty stills.
CAT HENESEY-SMITH (@cat_henesey)
Bali-based Cat, 24, has a totally unique style and loves showing off her fun fashion sense in foodie pics taken around Asia.
CAYLA TUDEHOPE (@loveloons)
This 27-year-old energy healer is all about the crystals. She even has her own crystal jewellery line! Her 'gram is full of earthy shots and baubles.
CHRISTINA KARKLIS (@christinajkarklis)
A "fun-loving diva", the 23-year-old retail manager's account is full of pics with her friends out in Brisbane and selfies showing off her many beauty looks.
DASHA GAIVORONSKI (@dashbody_)
The 32-year-old single mum loves is super into fitness. She's also got a major sweet tooth!
EMILY DIBDEN (@emilydibden)
Per her bio, 24-year-old Emily goes by the nickname "peachy". She's a dance teacher and also does modelling—including bridal looks.
JULIANA KING (@mermaid.witha.message)
The 29-year-old lifeguard's Instagram reveals she's a vegan and also a school teacher. No surprise, she loves sharing beach pics and sporty moments in the surf.
KAYLA GRAY (@kaylagray1)
Melbournite Kayla calls herself a "Full Time Flight Attendant", "Part Time Sicko", and "Daryl Braithwaite Enthusiast" in her bio. She's 25 and loves watching AFL games and going to the races.
RENÉE CUZENS (@reneecuz)
The 30-year-old business analyst loves to share her "life adventures" in Melbourne with her followers.
RHIANNON DOHERTY (@rhi.zee)
According to 28-year-old Rhiannon's bio, she's "saving the world one coffee cup at a time".
ROMY POULIER (@romypoulier_)
The 29-year-old photo shoot director is also an actress. She loves sharing selfies and enviable holiday snaps.
SHANNON BAFF (@shannon_baff)
Twenty-five-year-old Shannon's Insta life motto is "Imagination is more important than knowledge- knowledge is limited, imagination is limitless".
SOPHIE TIEMAN (@sophie.tieman)
Sophie, 25, keeps her Insta a bit cheeky. The property valuer's bio reads, "Life and wine are very similar: chill for best results."
STEPH CROTHERS (@stephcrothers)
A children's entertainer, 23-year-old Steph runs a princess parties business in Melbourne. At recent events, she's dressed as Ariel, Elsa, Sleeping Beauty and a fairy!
TENILLE FAVIOS (@tenillefavios)
The 25-year-old flight attendant's bio says she's "so laid back I need to lean forward". She loves to share photos highlighting her outfits and time at the beach.
VANESSA SUNSHINE (@vanessa.sunshine)
Vanessa, 27, is doing double time on Instagram—runnning her own account and that of her fluffy Maine Coon cat named Pushkin.
NICK CUMMINS (@nickbadger)
And, of course, you'll want to follow the Honey Badger himself for all of his outback adventures.