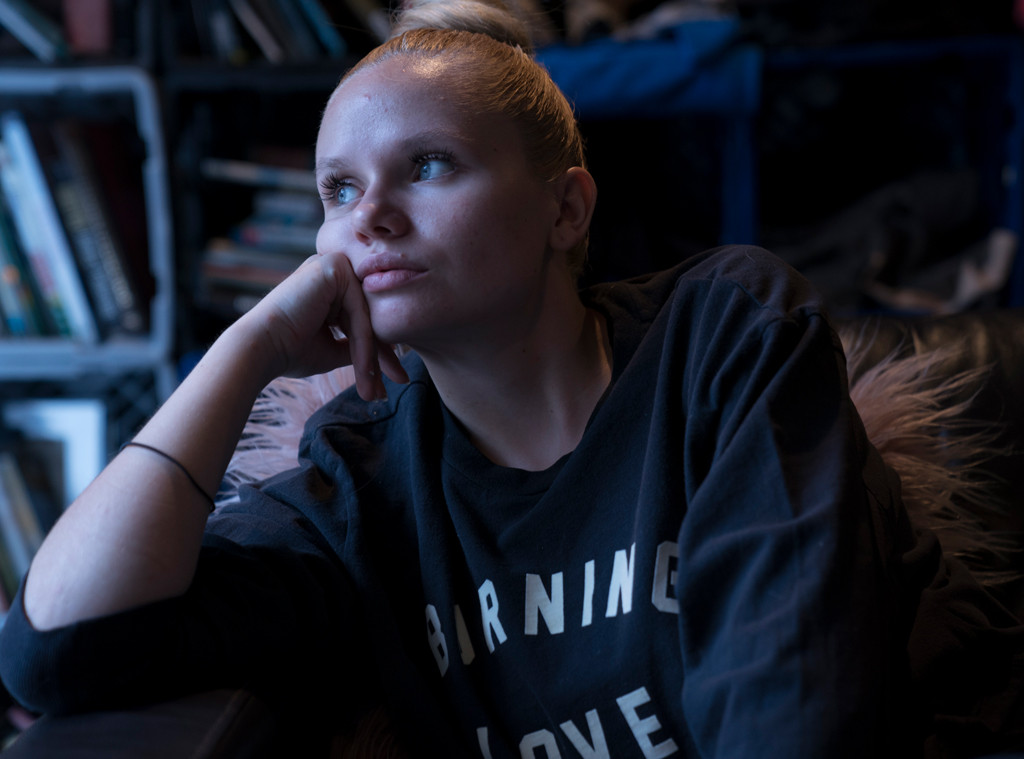 SBS
Alli Simpson usually calls her comfortable apartment in West Hollywood home. But in March, the singer found herself sleeping on a bench in Sydney's Hyde Park for two nights with no food, money or phone while taking part in the second series of SBS' Filthy Rich & Homeless.
The 10-day social experiment, designed to shine a light on homelessness in Australia, was completely "eye-opening" for Alli. And, as she tells E! News, she cried a lot while sleeping rough.
"There wasn't much time where I wasn't crying. I feel like the only times I wasn't really crying was when I was either talking to another homeless person or seeing if I could make somebody else smile," the 20-year old says. "But when I was left with my own thoughts and feelings I'd be crying again. It was really, really confronting."
For the series, Alli, Cameron Daddo, Skye Leckie, Ben Law and Alex Greenwich were stripped of their possessions, given second-hand clothing and a sleeping bag, and left at different locations across Sydney. 
"I got dropped down [at Woolloomooloo], where there are a lot of homeless people, which was really terrifying because it's not a very safe area and there are a lot of scary figures down there doing lots of sketchy things," she says. "I got out of the car and I started crying and I was terrified. I was approached by homeless guys, saying, "Come and sleep with me," and calling me pretty. I was honestly terrified and got out of the area as quick as I could."
The "RICHER" singer ended up walking to Hyde Park, where she slept for the next two nights.
"I didn't really want to sleep anywhere else," she adds. "Because it was a big, open space I felt safer there for some reason."
Her brother, 21-year-old singer Cody Simpson, and her then-boyfriend, Australian musician Conrad Sewell, were both worried about Alli taking part in the series.
"[Cody] couldn't believe that I signed up to do it," she tells E! News. "He was really emotional about me going in and because I couldn't speak to anyone, he was calling mum and everyone every day, wondering if I was OK. He was getting worried about me at some point there, but he was ultimately very proud.
"I was still with Conrad while we were shooting, and he felt the same way as Cody. He was very worried about me the whole time."
Despite her 1.4 million followers on Instagram, the Gold Coast-raised influencer says she was barely recognised while taking part in the experiment.
"Nobody came up to me. I tended to avoid the public areas because that was really quite humiliating," she says. "There was a group of girls on a school excursion and I think one of them noticed me, but at that time I was talking to the camera and the camera wasn't hidden, so it just looked like I was shooting a vlog."
After filming wrapped and Alli returned to her LA apartment, she couldn't shake her experience on the streets of Sydney and meeting others in a similar predicament.
"When I got back to LA, I walked into my apartment and just burst out crying. I think it was because I just saw all of this stuff, and my beautiful apartment, and all these things that don't really mean much in the scheme of things," she says. "It gave me a different perspective on life and my life in general. Even sitting in my car—I would have lived in my car. It was really confronting when I went back to my normal life. And it really changed my perspective."
Her life has changed in more ways than one since taking part in Filthy Rich & Homeless. In June, Alli announced she and her boyfriend Conrad were taking a break after two years of dating.
But she confirms there's no bad blood with her ex, and they've managed to remain friends.
"It was a mutual decision that we needed to focus on ourselves and our careers just for the moment, and there was no cold, cutting communication or anything. It was just like, let's take time for ourselves, and you never know what's going to happen in the future," she says of their split.
"Obviously it was hard—breakups are going to be hard in general—but I know it was difficult for the two of us. I saw him the day before I came to Sydney a couple of days ago, and I saw him after he performed at the Logies. So we've been catching up for coffees here and there and still maintaining a nice friendship for now."
And while she's currently focusing on self-improvement and her own career, the "Material Boy" singer isn't ruling out dating completely.
"I'm not looking to date someone else right now, but obviously if the opportunity arose and I met someone, of course," she says. "For me right now, my priorities are focusing on me and becoming the best version of myself and then that would attract anybody in general anyway. I want to love myself completely before jumping back into a relationship."
Filthy Rich & Homeless airs on SBS over three nights on Tuesday 14, Wednesday 15 and Thursday 16 August at 8.30pm.