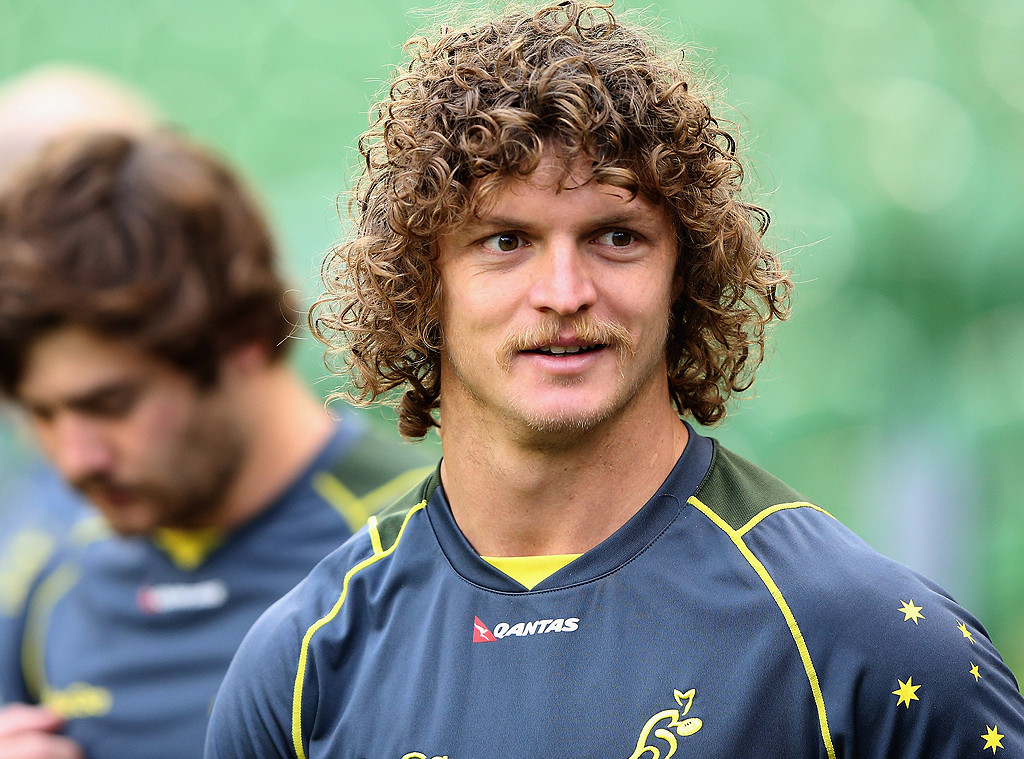 Ian Walton/Getty Images
Nick Cummins stormed into life "a big unit", according to his father.
In fact, the "Honey Badger" weighed a whopping 4.5 kilos at the time of his Port Macquarie birth.
"I could put back a bit of tucker," the 30-year-old Bachelor told Sunday Night. "I was hard in the tooth, and I suppose not much has changed."
One of eight siblings, Nick was raised in Queensland's Logan, just south of Brisbane, where he quickly learned his way around a sports field.
"Growing up, I was like any Aussie kid — you know we love our sport — that was my favourite subject at school. That is a subject, right?" the rugby star quipped to The Australian in 2016.
But his upbringing wasn't an easy one.
Joe Giddens - EMPICS/PA Images via Getty Images
Two of Nick's younger siblings, Joe and Lizzy, were diagnosed with cystic fibrosis—a debilitating and incurable lung condition—at an early age.
"Look, it's a life-limiting and quite serious thing," he told CNN of their illness. "But they're both quite strong and quite strong-minded. They're fighting their way through it, their view is just to get on with it."
His parents eventually separated, and Nick rarely speaks about his mum, saying simply, "She needed a bit of a break as she had a tough run looking after us nuisances."
It's dad Mark whom Nick credits with holding the family together.
"He's had eight kids to look after and the stress of work, and yet he's always still managed to do it with a smile on his face," he said. "That's pretty inspiring."
Nick went on to have a successful professional rugby career, rising from a stint playing sevens to the Western Force and, his ultimate dream, the Wallabies. Beyond his athletic prowess, he soon became known for spewing a steady stream of larrikin wittisisms ("Holy tomorrow", "Tough as woodpecker lips", "Bloody, you beauty", etc, etc) and for his adopted animal nickname: The Honey Badger.
"I spend a bit of time on Animal Planet and all that sort of gear, and I bloody come across this little mongrel," he told Sunday Night. "Just the way it approached life, I thought, that's outstanding."
The weasel-like creature's penchant for fearlessly attacking venomous snakes and bouncing back hours later to give it another go, motivated Nick to adopt that attitude on the playing field.
"I just like that aggression, and try to get into the mindset of the honey badger when going into contact during a game," he told Fairfax in 2012. "There's no doubt, there's no fear."
Off the field, however, Nick's life soon became filled with terrifying uncertainty.
In 2013, his father was diagnosed with terminal prostate cancer. At the time of discovery, it had already spread to Mark's hip and, they were told, would continue to spread.
The devastating news coupled with the ongoing expenses of his siblings' cystic fibrosis treatment (which requires hours of physio each day) led Nick to make a decision that shocked the sports world the following year: He walked away from his spot on the national rugby team at the height of his game.
"Playing for the Wallabies is a massive thing, and it's something you dream about for so long, and when it finally happens, all the emotions that come through…" he told The Project. "To give that up, yeah, it's a no-brainer when it comes to family."
The 6-foot-2 powerhouse instead signed with a Japanese club team, the Coca-Cola Red Sparks, earning a far bigger pay packet than he could make playing Australian rugby. The move also meant he'd have more time off to spend with his family—and research alternative medicines.
"I said, why mate? Why do this?" Mark, who was honoured as Queensland Father of the Year in 2012, told Sunday Night. "He said, 'I want to find something to get you well, and I want to find something to get Lizzie and Joe well…
"'It would be wrong of me to take a personal joy, the personal glory, to be the big man, when I could go over there, make a fair bit of loot, drop it into an account, and if there's a cure or something that comes up overseas, hell, away you go and get it done. That's far more important than me playing for the Wallabies.'"
Nick played in Japan for two seasons where he spent a lot of time "crunched up in a high-rise shoebox, doing me best, having me bloody noodles," before ultimately deciding it was time to come home.
"It was bloody freezing cold outside and snowing," he said. "I was just like, I need to get out to Australia. I need to get back to it."
He returned home in 2016, and while he hoped to earn a spot on the Australian Olympic rugby team in Rio, a knee injury dashed his chances. Now, he's taking on a new challenge: wooing 25 women in his quest for love as Australia's latest star of The Bachelor (premiering August 15 on Ten).
"They say you get three loves in life. My first one, you know, probably cuts pretty deep. You're not really sure if it's infatuation or not," said Nick, who previously dated Norwegian artist Martine Thomassen for five years, on The Project in March.
"And the second one—you know, it may be love. But maybe you don't understand, 'cause you're still young and inexperienced at the timings and both your lives haven't really hit the right connection, the right point.
"So I suppose the third one—which—who knows, I could actually find— could be this one, where I've realised it's not infatuation, the timings of both of our lives have come to this point, and now we've connected and, hopefully, pressed forward into a happy future."