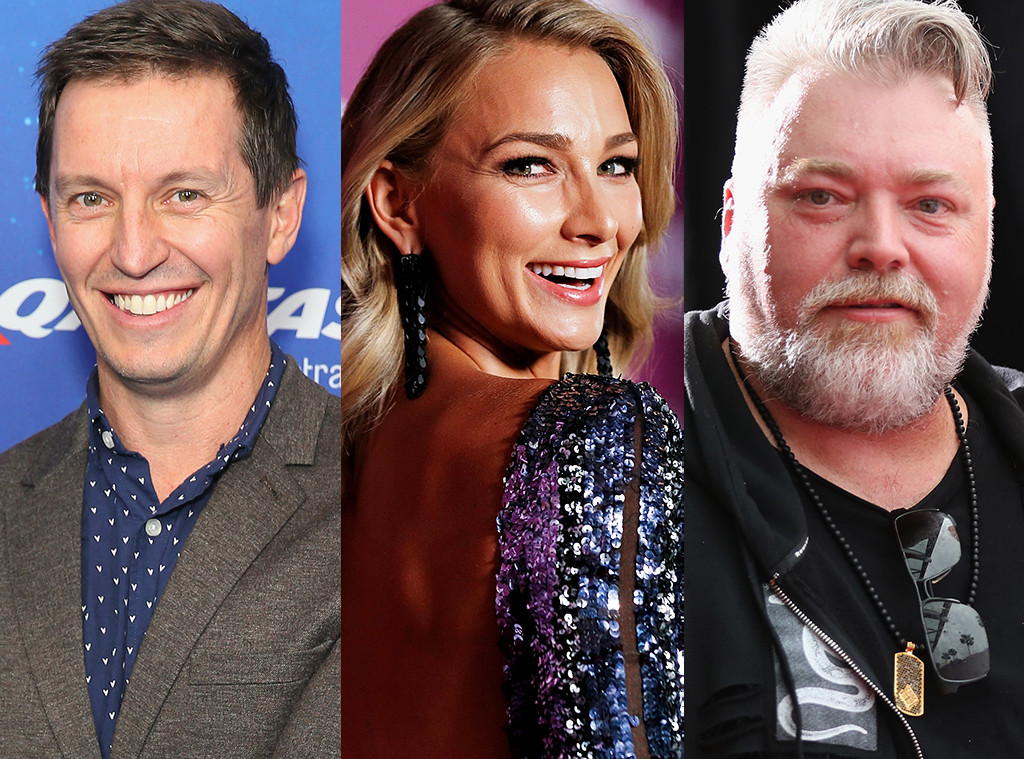 Don Arnold/WireImage, Lisa Maree Williams/Getty Images for Qatar Airways, Don Arnold/WireImage
The fate of Ten's new TV series is (partly) up to you.
Following Kyle Sandilands' announcement that he'll host Trial By Kyle, the network revealed it will launch Pilot Week, bringing a slate of eight pilot episodes for potential new series to air in prime time from August 19.
The Australian TV first, hosted by by Gold Logie winner Grant Denyer and Studio 10's Angela Bishop, will break the traditional model that sees industry execs greenlight series based on pilots before debuting them to the general public—and use "audience reaction, social buzz and ratings" to help decide which will get full series orders for 2019.
"Involving Australian audiences in whether or not a program gets the green light via tenplay and other social initiatives provides a fantastic opportunity for Australian audiences to have their say in what they want to see on our screens in 2019," Beverley McGarvey, Ten's Chief Content Officer said in a statement.
Here's the network's synopses of the pilots on offer:
Skit Happens
"Nothing is safe from a Skit Happens parody, when the nations up-and-coming comedians join forces for Network Ten's first sketch comedy in 12 years."
Dave
"Funny-man Dave O'Neil opens the doors to his crazy life in a half-hour narrative comedy. Expect laughter, tears and the appreciation of not being Dave."
Kinne Tonight
"Comedian Troy Kinne ditches the stress of modern life, bringing hard-working Australians a fast-paced half-hour of laughter."
Drunk History
"Rhys Darby and Stephen Curry pour themselves a drink in the international hit comedy format that takes Australia's rich, and often surprising history and re-tells it through the words of our most loved comedians and entertainers."
Taboo
"Taboo has broken audience records in its country of origin, Belgium. The premise is as confronting as it is simple. The very funny Harley Breen spends five days and nights with members of a disadvantaged group in society and uses the experience to perform a stand-up routine about them – with the subjects sitting in the front row."
Trial By Kyle
"The toughest cases, biggest celebrities and genuine disputes can only be settled by one man, radio shock jock Kyle Sandilands. As Kyle carefully unravels each case, former The Bachelor Australia star and criminal lawyer Anna Heinrich is on hand to assist in forensically analysing the evidence."
Disgrace!
"The world is full of disgrace and outrage. Shunned politician Sam Dastyari and the team behind Gruen and The Chaser manage the latest outbreak of outrage in a half-hour of opinion, insight and laughs."
Bring Back… Saturday Night
"Rove McManus is on a mission to bring back Saturday night entertainment. A chance to reflect on what Saturday night means to Australia–then and now. Young performers will bring back the best of the past and performers of the past are challenged with reinvention. Sketches, guests, music and nothing but feel good moments as Rove finds the comedy and laughs by breaking down the conventions of entertainment and variety television. Join his quest to reunite Australia's greatest acts, bands, and television faces in a generation bending live television show."
After the lineup was announced, many on social media were quick to point out its lack of diversity.
"Oh Look!! How very exciting for all these men!!!" comedic actress Jane Kennedy  tweeted. "And look!...There's a lady in this picture with the remote control so she can watch all the clever funny men who have the opportunity to pilot their own shows."
While Em Rusciano posted in reply on Instagram, "Channel 10 have a pilot week coming up, of the EIGHT shows they're trying exactly ZERO are fronted by women and exactly EIGHT are straight, white, men. I've got a show idea, so do about FIFTEEN other funny women I know. POOR FORM."
E! News has reached out to Ten for comment.
What do you think of the Pilot Week lineup?