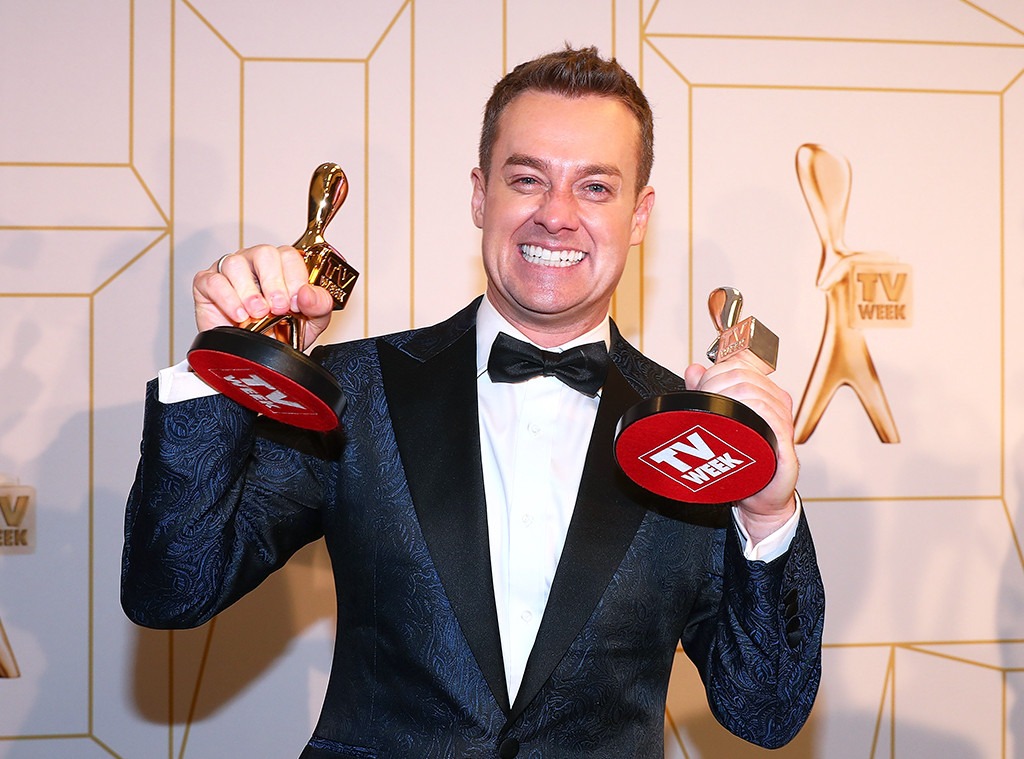 Chris Hyde/ Getty
Meet your 2018 Gold Logie winner!
Family Feud host Grant Denyer won the Gold Logie Award for Most Popular Personality at Sunday's ceremony, over nominees Amanda Keller, Andrew Winter, Tracy Grimshaw, Rodger Corser, and Jessica Marais.
"Game shows aren't important, but this is so important to me," the shocked Network Ten personality said after receiving the award from last year's winner, Samuel Johnson.
"I can't believe this. I wasn't expecting to stand up here tonight, I definitely thought it was Amanda Keller's night tonight. She's a remarkable human being."
In his acceptance speech, the 40-year-old father-of-two paid tribute to his axed game show, which will not be returning after four years on air.  
"Obviously the power of people has been pretty extraordinary this week with everybody rallying behind Family Feud as we say goodbye to this show. This show's been incredible for me and my life," he said, fighting back tears.
"Family Feud came along for me in my life at a time when I really wasn't quite sure if I'd ever work again, or if I even wanted too. I wasn't particularly in a very good place, I wasn't very well, I was in a bit of a hole, I was pretty sad, I was a bit lost.
"Family Feud gave me a ladder out of that hole, and I'm very lucky to have had it. It gave me my mojo back…So Family Feud, thank you so much. You saved me."
The Sydney-based radio presenter, who also received the Logie for Most Popular Presenter, admitted his success would not have been possible without this wife, Cheryl.
"I owe this to you. We are an incredible team and you've been there by my side for the best, the worst," he said, tearing up again. "I want you to share this moment because this is yours as much as it is mine."
Hard Chat host Tom Gleeson—who campaigned for Grant to win Gold—also got a special thank you.
"Sometimes if you need to get some things done in this country you need an angry red head and Pauline Hanson wasn't available, so I had you mate," Grant joked. "Thank you so much."
Grant's first television job was as a cadet journalist at Prime TV in Wagga Wagga. He joined Network Ten in 1999 as a full-time news reporter and in the years since has served as Sunrise's weatherman on Seven, the host of Australia's Got Talent and as a contestant on 2006's Dancing with the Stars.
Watch:
The Best Logies Throwbacks of the 2000s