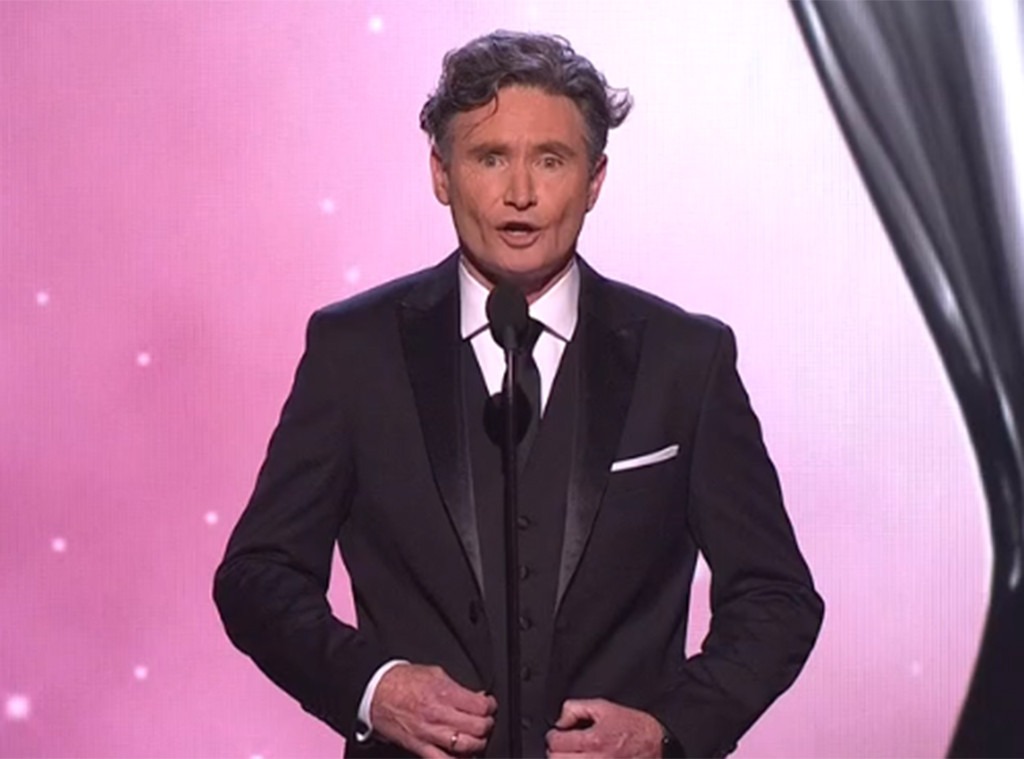 Nine
Dave "Hughesy" Hughes did not hold back!
In his opening monologue at the 60th TV WEEK Logie Awards, the comedian took shots at Barnaby Joyce's Sunday Night interview, Ubergate, the Married at First Sight "cheating scandal"—and much more.
Taking the stage at The Star Gold Coast, the Hit Network host first acknowledged how some stars were not at the ceremony because it was "too expensive" to travel to Queensland.
"Too expensive? Kochie—borrow some money off the Cash Cow, mate. Honestly, it's because they gave all their money to Barnaby Joyce's baby," Hughesy joked.
"He gets 150,000 bucks for his private education, Sam Armytage can't come to the Logies."
The Melbourne-based comedian then gave a shout out to the Married at First Sight contestants in the room, particularly Davina Rankin.
"The amount of outrage about Davina cheating on her husband—they weren't married!" he said. "The moral outrage should have gone to the bloody experts that put them together…I wouldn't trust you guys to pair my socks."
Bachelor in Paradise's Tara Pavlovic and Sam Cochrane's recent break up also got a mention.
"It's not easy finding love on TV, is it? We found out bloody today what's-his-name and what's-her-name broke up," the 47-year-old joked.
"That's coming off the back of Sophie Monk breaking up with a married guy. That's heartbreaking. He might go back to his wife and kids."
As expected, Hughesy made multiple jabs at the Ubergate scandal, in which a driver recorded a conversation between Karl Stefanovic and his brother Peter.
But Karl had the last laugh during the monologue by showing off the 13Cabs app on his phone when the camera cut to his reaction.
His former colleague, Lisa Wilkinson, did not escape without being made fun of, either.
"Lisa Wilkinson's probably glad she left," Dave told the crowd. "You weren't getting paid parity, were you Lisa? And you're not getting it at The Project, either. Now, you're earning double."
He added: "Don't blame me for that joke—blame Carrie and Waleed!"
Hughesy praised Gold Logie nominee Tracy Grimshaw's Don Burke interview on A Current Affair and also took the opportunity to call out the disgraced TV gardener.
"Give it up for Tracy Grimshaw guys. 30 years, nominated for a Gold. Good on you Tracy," the comedian said.
"Her Don Burke interview that's been nominated as well, that was amazing. We got a lot of revelations from that. We go the revelation that Don apparently has Asperger's. No one knew about that—including his doctor."
This isn't the first time the Hughesy, We Have A Problem host has roasted the Logies crowd. Last year, he took aim at The Bachelor's Richie Strahan, Grant Hackett and George Calombaris.
A total of 20 awards will be handed out at the ceremony tonight, including the prestigious Gold Logie. Amanda Keller, Andrew Winter, Grant Denyer, Rodger Corser, Tracy Grimshaw and Jessica Marais are all nominated for the top award.
Watch:
The Best Logies Throwbacks of the 2000s