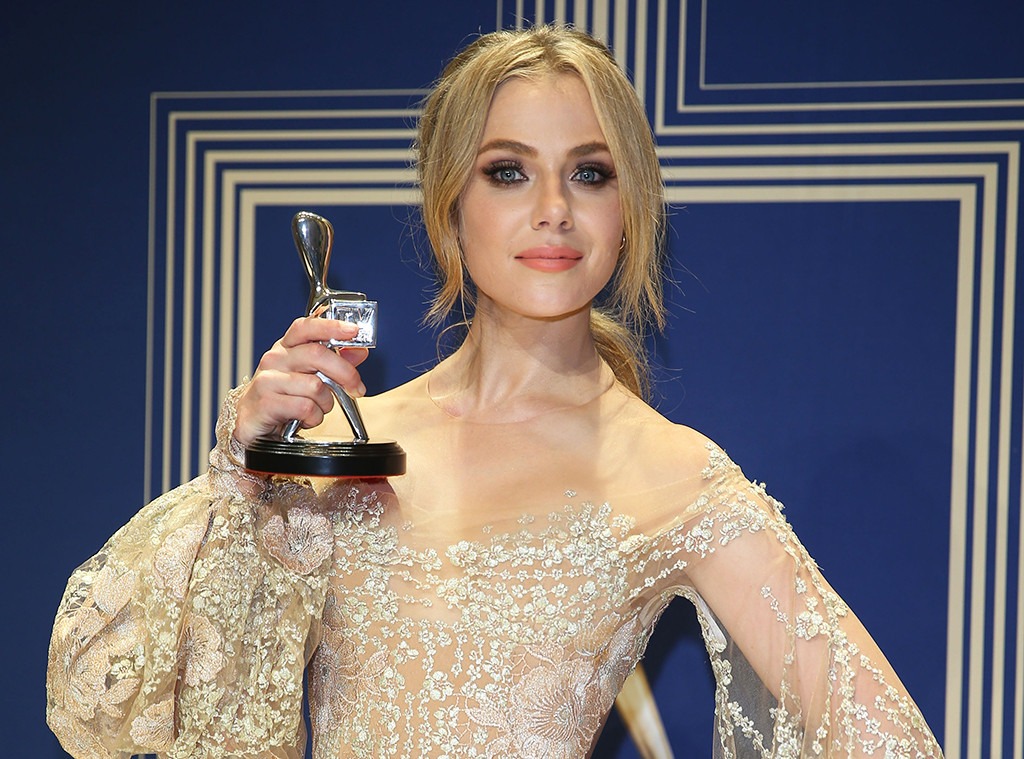 Splash News
The countdown to the 60th TV WEEK Logie Awards is almost over!
Broadcast live from The Star Gold Coast in Queensland on Sunday, July 1, the awards night recognises stars of the Australian TV industry, including the prestigious Gold Logie winner.
Dave "Hughesy" Hughes will return to open the ceremony—he's roasted the crowd since 2015—while Hamish Blake and Andy Lee, Carrie Bickmore, Julia Morris, Deborah Mailman and Scott Cam are among the special guests presenting.
Grammy award-winning British singer Jess Glynn will perform her hit "These Days" alongside Dan Caplen (they collaborated with Macklemore on the song), and Queensland musician Conrad Sewell will also take to the stage. Music looper Sam Perry will follow up his Voice Australia win with a mashup with his coach, Kelly Rowland.
Catch the best dressed stars on the red carpet from 7.00pm and the ceremony at 7.30pm, all airing on Nine and streaming on 9Now.
Check out the full list of nominees below:
TV Week Gold Logie – Most Popular Personality on Australian TV
Amanda Keller, The Living Room (Network Ten)
Andrew Winter, Love It Or List It Australia/Selling Houses Australia (Foxtel – Lifestyle)
Grant Denyer, Family Feud/All Star Family Feud (Network Ten)
Jessica Marais, Love Child (Nine Network); The Wrong Girl (Network Ten)
Rodger Corser, Doctor Doctor (Nine Network)
Tracy Grimshaw, A Current Affair (Nine Network)
Most Popular Actor
Aaron Jeffery, Underbelly Files: Chopper (Nine Network)
Erik Thomson, 800 Words (Channel Seven)
Luke McGregor, Rosehaven (ABC)
Ray Meagher, Home And Away (Channel Seven)
Rodger Corser, Doctor Doctor (Nine Network)
Most Popular Actress
Asher Keddie, Offspring (Network Ten)
Celia Pacquola, Rosehaven/Utopia (ABC)
Deborah Mailman, Cleverman (ABC)
Jessica Marais, Love Child (Nine Network); The Wrong Girl (Network Ten)
Julia Morris, House Husbands (Nine Network)
Most Popular Presenter
Amanda Keller, The Living Room, (Network Ten)
Andrew Winter, Love It Or List It Australia/Selling Houses Australia (Foxtel – Lifestyle)
Carrie Bickmore, The Project (Network Ten)
Grant Denyer, Family Feud/All Star Family Feud (Network Ten)
Tracy Grimshaw, A Current Affair (Nine Network)
Graham Kennedy Award for Most Popular New Talent
Dilruk Jayasinha, CRAM!, Network Ten; Utopia (ABC)
Matty Johnson, The Living Room (Network Ten)
Sam Frost, Home And Away (Channel Seven)
Sophia Forrest, Love Child (Nine Network)
Sophie Dillman, Home And Away (Channel Seven)
Most Popular Drama Program
Doctor Doctor (Nine Network)
Home And Away (Channel Seven)
Love Child (Nine Network)
Offspring (Network Ten)
Wentworth (Foxtel – Showcase)
Most Popular Entertainment Program
Anh's Brush With Fame (ABC)
Family Feud (Network Ten)
Gogglebox Australia (Foxtel/Network Ten)
Hard Quiz (ABC)
The Project (Network Ten)
Most Popular Comedy Program
Have You Been Paying Attention? (Network Ten)
Here Come The Habibs (Nine Network)
Hughesy, We Have A Problem (Network Ten)
Shaun Micallef's Mad As Hell (ABC)
True Story With Hamish & Andy (Nine Network)
Most Popular Reality Program
I'm A Celebrity...Get Me Out Of Here! (Network Ten)
Married At First Sight (Nine Network)
My Kitchen Rules (Channel Seven)
The Block (Nine Network)
Travel Guides (Nine Network)
Most Popular Lifestyle Program
Better Homes And Gardens (Channel Seven)
Gardening Australia (ABC)
Selling Houses Australia (Foxtel – Lifestyle)
The Checkout (ABC)
The Living Room (Network Ten)
Most Outstanding Drama Series
A Place To Call Home (Foxtel – Showcase)
Doctor Doctor (Nine Network)
Harrow (ABC)
Top Of The Lake: China Girl (Foxtel – BBC First)
Wentworth (Foxtel – Showcase)
Most Outstanding Miniseries or Telemovie
Romper Stomper (Stan)
Safe Harbour (SBS)
Seven Types Of Ambiguity (ABC)
Underbelly Files: Chopper (Nine Network)
Wake In Fright (Network Ten)
Most Outstanding Actor
Damon Herriman, Riot (ABC)
Ewen Leslie, Safe Harbour (SBS)
Hugo Weaving, Seven Types Of Ambiguity (ABC)
Lachy Hulme, Romper Stomper (Stan)
Rodger Corser, Doctor Doctor (Nine Network)
Most Outstanding Actress
Elisabeth Moss, Top Of The Lake: China Girl (Foxtel – BBC First)
Kate Atkinson, Wentworth (Foxtel – Showcase)
Kate Box, Riot (ABC)
Leeanna Walsman, Safe Harbour (SBS)
Pamela Rabe, Wentworth (Foxtel – Showcase)
Most Outstanding Supporting Actor
Aaron Pedersen, A Place To Call Home (Foxtel – Showcase)
Alex Dimitriades, Wake In Fright (Network Ten)
Anthony Hayes, Seven Types Of Ambiguity (ABC)
David Wenham, Romper Stomper (Stan)
Hazem Shammas, Safe Harbour (SBS)
Most Outstanding Supporting Actor
Celia Ireland, Wentworth (Foxtel – Showcase)
Elsa Cocquerel, Wolf Creek (Stan)
Jacqueline McKenzie, Romper Stomper (Stan)
Jenni Baird, A Place To Call Home (Foxtel – Showcase)
Nicole Chamoun, Safe Harbour (SBS)
Most Outstanding Children's Program
Crash The Bash (Foxtel – Nickelodeon)
Get Arty (Channel Seven)
Grace Beside Me (NITV)
Little J & Big Cuz (NITV)
Mustangs FC (ABC ME)
Most Outstanding Sports Coverage
2017 AFL Grand Final (Channel Seven)
2017 Australian Open Men's Final (Channel Seven)
Bathurst 1000 (Network Ten)
Jeff Horn v Manny Pacquiao (Foxtel – MAIN EVENT)
The 2017/2018 Ashes (Nine Network)
Most Outstanding News Coverage or Public Affairs Report
"Don Burke Special" A Current Affair (Nine Network)
"Escape From Salt Creek" 60 Minutes (Nine Network)
"Haiti Uncovered" Sunday Night, (Channel Seven)
"Pumped" Four Corners (ABC)
"The Siege" Four Corners (ABC)
Most Outstanding Factual or Documentary Program
Michael Hutchence: The Last Rockstar (Channel Seven)
Struggle Street (SBS)
The Queen & Zak Grieve (Foxtel – Crime + Investigation)
War On Waste (ABC)
You Can't Ask That (ABC)