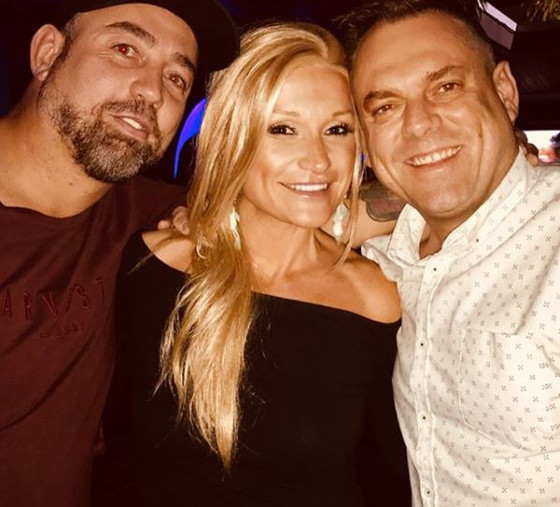 Instagram
Don't get your hopes up for another Married At First Sight partner swap just yet.
Despite Nasser Sultan claiming his Season 5 co-stars Sean Donnelly and Gabrielle Bartlett are now a couple, Sean says there is absolutely no truth to the speculation.
Calling the rumours "completely fake", the Adelaide-based single told News.com.au, "I have no idea, last week Nasser commented on Gabby's Instagram post that [she] and Ryan [Gallagher] would make a good couple so I'm not sure even he knows what he is on about."
After Sean and Gabrielle met up in Adelaide last week to attend Ryan's stand-up comedy show, Nasser – who also happens to be Gabrielle's MAFS ex – told The Kyle and Jackie O Show Monday morning that the unlikely pair were an item.
"I can tell you that now Gab is sleeping with Sean from Adelaide…Sean, Jo [McPharlin]'s ex," Nasser said on the KIIS FM show May 28. "I've got sources all over Australia. Apparently she flew down to see Ryan's gig and Jo caught them in the hotel room."
But even though Sean shot down any romance buzz with Gabrielle, the TV stars are still close.
"My spunky friends @ryangallaghergram and @seandonners9 loved catching up over 97 drinks, several belly laughs and loved your show Ryan," Gabrielle captioned a series of Instagram photos from their night out, "almost as much as I love your Dad and Sean's Alpacas."
During the Married At First Sight Season 5 reunion special, participants Troy Delmege and Carly Bowyer revealed they had moved on from their original MAFS partners, Ashley Irvin and Justin Fischer, and are now dating each other.
Fellow stars Tracey Jewel and Sean Thomsen pulled a similar move, leaving behind Dean Wells and Blair Rachael to announce their new pairing at the reunion—but they've since broken up.
"I'm sad to say Sean and I have gone our seperate [sic] ways. Sometimes futures just don't align," Tracey posted on Instagram May 16. "Sean you are an amazing person and I'm thankful for the time we have spent together.. I'll always remember it as a special time in my life."