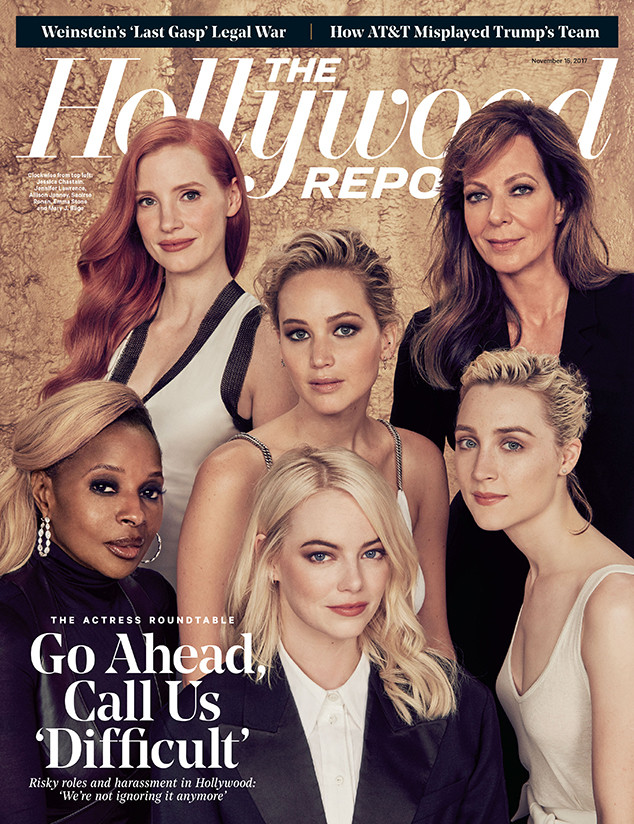 Ruven Afanador/The Hollywood Reporter
For The Hollywood Reporter's annual Actress Roundtable, held Nov. 11, the magazine asked Mary J. Blige, Jessica Chastain, Allison Janney, Jennifer Lawrence, Saoirse Ronan and Emma Stone to talk about their experiences in Hollywood—good and bad. And, given the number of high-profile men accused of sexual abuse and harassment, the six actresses had a lot to discuss.
"The entertainment industry is kind of the stage on which you can see the inner workings of problems that are all over the world," said Lawrence, who won an Oscar in 2013. "If a flight attendant comes forward about a pilot, it doesn't end up in the news because nobody knows about it. That doesn't mean that there's less sexual abuse going on anywhere else in the world, in any other place of work," she argues. "But fortunately, we're starting the conversation now."
Lawrence hopes that "eventually" the culture will change. "I think it's going to be a while. It's deeply ingrained, unfortunately. It's kind of this social proof in some way of your masculinity."