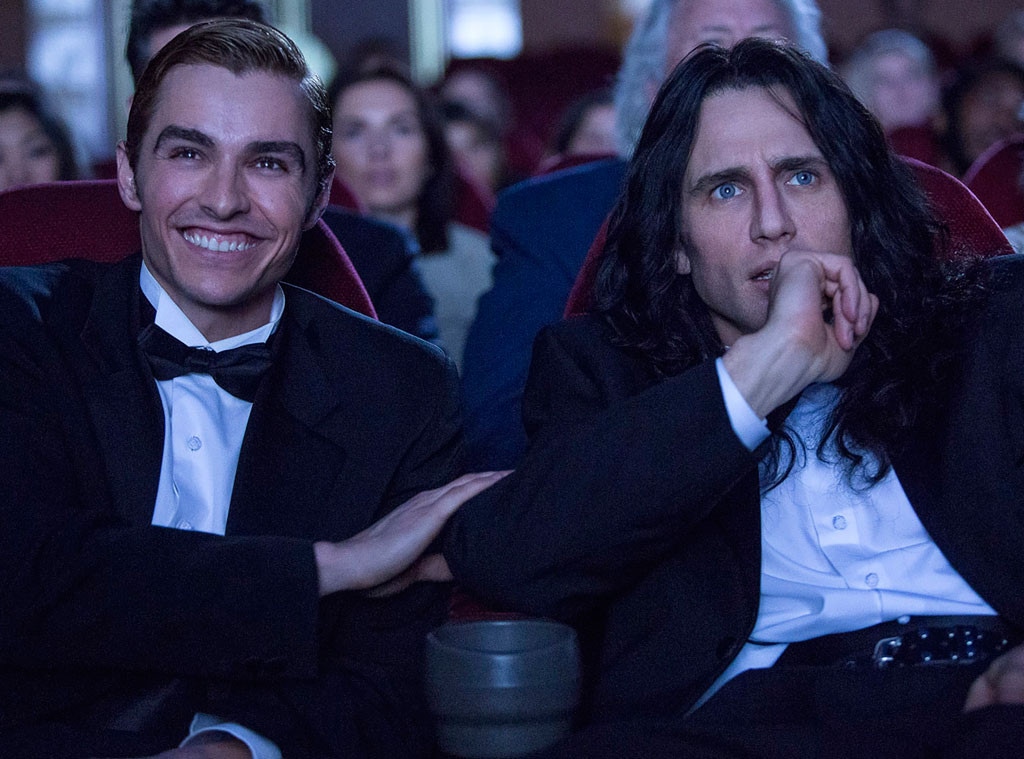 Come this weekend, longtime BFFs and frequent collaborators James Franco and Seth Rogen will reunite onscreen (and off) yet again. But The Disaster Artist is going to be monumental for a wholly different reason: The Franco brothers (that would be James and Dave of course) will have large roles in the same movie for the first time ever. 
It may seem like an anomaly, but according to Franco family lore older brother James has been asking (nay, begging) his younger sibling Dave to work together for years. (While James has been in the industry for much longer, Dave has been working consistently since his 2008 stint on Greek, which leaves plenty of time for said begging). Dave has long resisted his professional advances.
It's understandable: As the younger and, for a few years at least, less experienced brother, it would have been easy to be overshadowed or simply overlooked if his career was too closely tied to James'. Everyone in Hollywood wants to carve out their own career and lay their own path; see Elizabeth Olsen's frequent refusal to discuss her astronomically famous older sisters. 
But sometimes a movie comes along that is too good to pass up. Also sometimes a story comes along which James Franco feels so passionate about that he literally will not take no for an answer. That's exactly how the two Franco brothers came to star in The Disaster Artist. 
"I read the book [The Disaster Artist] four years ago when Seth [Rogen] and I were in Vancouver making The Interview," the elder Franco explained to E! News of the movie's inception. "I read it and was like yes, I need to do this. I knew I wanted to tell this story, I knew I wanted to play Tommy and I knew I wanted my brother to play Greg."
Of course getting a movie to theaters takes a lot more than just a good story: You have to know how to play the Hollywood game. That's where Franco turned to his longtime BFF Rogen to bring some politicking into the often intensely creative world of the Francos. 
"The subject matter could go very fringe and indie," he explained. "Or it could actually have a bigger audience. I knew that my buddy Seth was really good at working with studios and still making the kinds of movies that he wanted to make. I just plain didn't know how to do that, so I brought the book to Seth and was like, I really wanna make this and it started the ball rolling." 
So what exactly is this historic—at least among the Franco and Rogen circles—movie about? Well, it's a little convoluted, a lot bizarre, and also incredibly fascinating. As it truly is James Franco's baby, it's probably best to let him tell it to you in his own, very long words. (It wouldn't be right if we didn't give James Franco some room to wax poetic.)
"It's about the making of the worst film ever made," Franco explained to E! News at the Toronto International Film Festival. "It's called The Room, and it's sort of the new Rocky Horror Picture Show. It's made by this guy named Tommy Wiseau and if you know him you'll understand. He looks like a vampire, he's got long black hair and it looks like he dyed it with a magic marker.
"The three mysteries about Tommy are where he's from, because he's clearly from Eastern Europe but claims he's from New Orleans and is just an All-American guy. And how old he is, because he was probably in his late 40s or 50s when he made The Room but he claimed he was in his 20s. And where he got his money, because he paid for the whole thing and it was like $6 million. It looks like it was made for about $6.
"He thought it was gonna be this incredible drama where people wouldn't be able to sleep for weeks they'd be so disturbed by it, and from the beginning everybody laughed at it. But he had enough foresight or wherewithal to show it at the Sunset 5 theater in Los Angeles at midnight on the weekends and over the years it became this huge cult phenomenon. [The Disaster Artist] is about outsiders with a dream and everyone telling them they can't do it, they can't make it, and somehow coming out with a successful movie." 
There, now everyone is caught up, right?
On top of producing and starring, the elder Franco brother also directs The Disaster Artist. To make a weird project even weirder, he decided to direct the real movie in character as Tommy, the director of The Room, which The Disaster Artist is about. Confused? So was everyone else. 
Even Seth Rogen, who has known Franco nearly as long as his actual family, had some trouble keeping up while on the set. Rogen, who plays script supervisor Sandy Schklair and describes his joining the project as an instant yes ("We don't ask questions of each other at this point," he said), copped to getting incredibly confused over James' alter-ego. 
"I don't think ever in the history of a movie has a director directed a movie while in character also as the actor in the movie," he told E! News. "And it's weird. It is strange to be directed by someone who is in character as an actor, but is also playing the director of the movie you are making. There were a lot of layers there, but I got used to it pretty fast to the point that when he wasn't wearing the costume it threw me. And I think I had an easier time talking to him as Tommy than as James." 
Despite all the confusion—and Seth's possible preference of Tommy over James—it's no surprise that Rogen and Franco will continue to work together as they always have. But the big question surrounding this flick is what kind of impact it had on the relationship between the two Franco brothers. After all, if they've been building up costarring with each other, it makes the stakes incredibly high. 
The public's opinion of the two of them onscreen together for the majority of a movie will come to light once it hits theaters on December 8, but the flick has already caught a lot of buzz within the industry and those all-important Oscar watchers. As for Dave and James? They've put together a joint production company and are working on a slate of upcoming projects. That means we're going to be doubling the Franco for years to come.