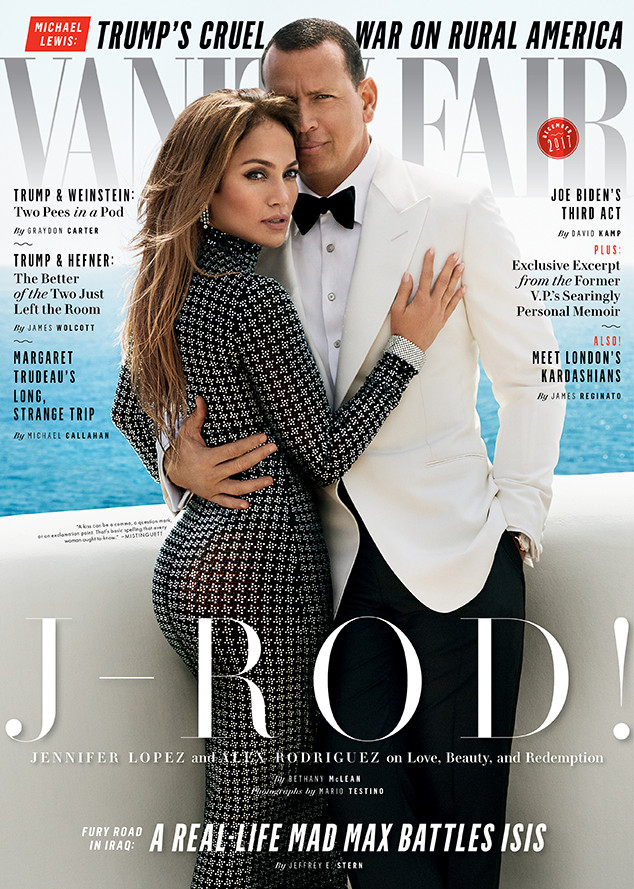 Mario Testino/Vanity Fair
Jennifer Lopez and Alex Rodriguez are a proud power couple in Vanity Fair's December issue. Though they both have a long list of famous ex-lovers, it's hard to imagine a more perfect pairing than the 48-year-old actress/singer and the 42-year-old athlete. Given their undeniable chemistry, Vanity Fair dispatched Bethany McLean to sit down with the couple for an interview.
Here are four highlights E! News gleaned from the cover story:
1. Lopez Boldly Made the First Move
Last winter, Lopez was having lunch in Beverly Hills when she spotted Rodriguez. "I almost yelled out 'Alex,' but I am the shyest person when it comes to things like that," she says. She saw him later, outside, and decided to approach him. "I could literally just have walked away. But I walk over and tap him on the shoulder and say, 'Hey.'" Lopez had just come from taping a promo for NBC's Shades of Blue, so she was dressed "like a boy" in jeans and boots with "curly short hair," she said. After introducing herself, Lopez recalled, "He says, 'You look so beautiful.'"
They actually met 12 years earlier, when Lopez's then-husband, Marc Anthony, threw out the first pitch before a New York Mets game. "You don't have to say you remember if you don't," she teases Rodriguez. But he, of course, remembers: "Shea Stadium, during a subway series."