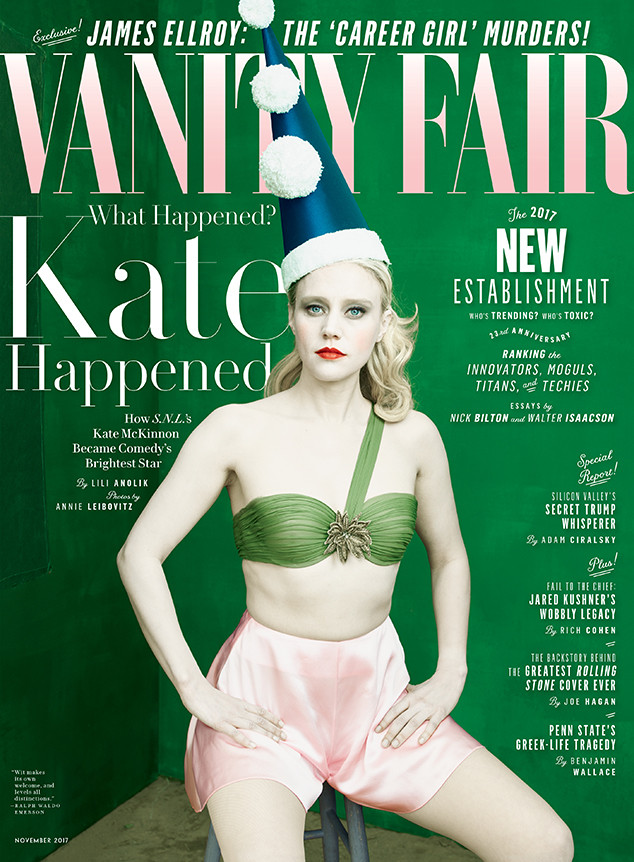 Annie Leibovitz/Vanity Fair
Live from New York, it's...Kate McKinnon!
Undeniably, the comedienne has become a star in her own right. Over the years, she steadily made a name for herself on NBC's Saturday Night Live, impersonating a variety of political figures like Hillary Clinton, Kellyanne Conway, Betsy DeVos, Ruth Bader Ginsburg, Angela Merkel, Kathleen Sebelius, Jeff Sessions, Elizabeth Warren and Debbie Wasserman Schultz.
McKinnon, who won her second Primetime Emmy Award in September, graces the cover of Vanity Fair's November issue (on national newsstands Oct. 10). And in her interview with Lili Anolik, she opens up about the joys of satirizing public officials. "I love doing impressions of politicians because the task is always to imagine the private lives of these people whose job it is to project an image of staunch, unflinching leadership and grace, and that's just not how human beings, in their heart of hearts, work," McKinnon explains. "In doing that for Hillary Clinton, who I admire so much, I started to feel very close to her, just trying to imagine her inner life."