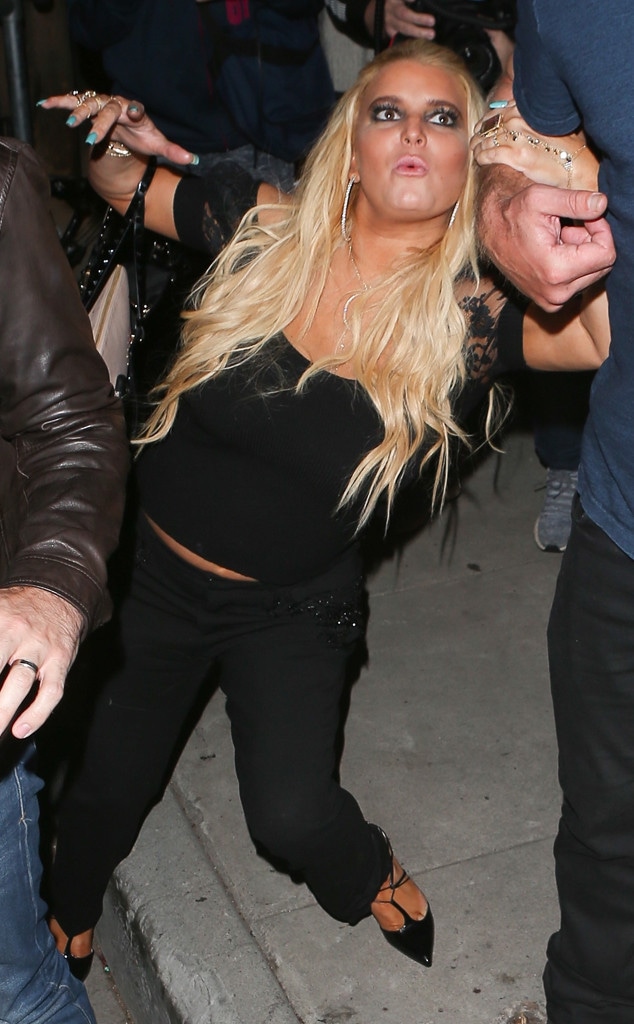 BACKGRID
Jessica Simpson had one fun Tuesday night!
The 37-year-old fashion mogul headed out to Craig's restaurant in Los Angeles with a few friends to celebrate her hubby, Eric Johnson's 38th birthday, and celebrating, it appears, is exactly what they did!
Photogs caught Simpson nearly tumbling over as she exited the L.A. hot spot—a result, onlookers said, was likely due to a combination of her sky-high heels, loads of photographers (and maybe a little bit of alcohol). Fortunately, Johnson was able to catch her and hold her up.
"Jessica arrived with husband Eric around 8:45 p.m. and stayed until 1:30 a.m.," an insider told E! News of their night out. "They were there to celebrate Eric's birthday."
"Eric didn't want them to sing happy birthday to him, but they brought out desert for him [instead]," the insider continued. "By the end of the night, the restaurant was trying to close, and they were still at their table."
Another source tells E! News they were there for nearly six hours, adding, "She and Eric were the last to leave the restaurant."
We're told she was having a bit of trouble walking after exiting the restaurant and had to hold Johnson's arm as they walked to valet and waited for the car.
When their driver picked them up, Simpson got in the car and began sticking her tongue out at photographers. But before she could leave, one photographer asked how she gets the perfect butt, referencing the cheeky photo she shared on Instagram Monday.
The pic featured Simpson bending over in front of Johnson while wearing a dress, giving her followers a peek at her booty.
"38 IS GREAT," she captioned the saucy pic. "#IAMSOHOTFORYOU."
When photogs asked about the pic, Simpson made sure to clarify, "I was not in a G-String!"
Neither here nor there, it looks like it's been a fun-filled few days for the Hollywood couple!