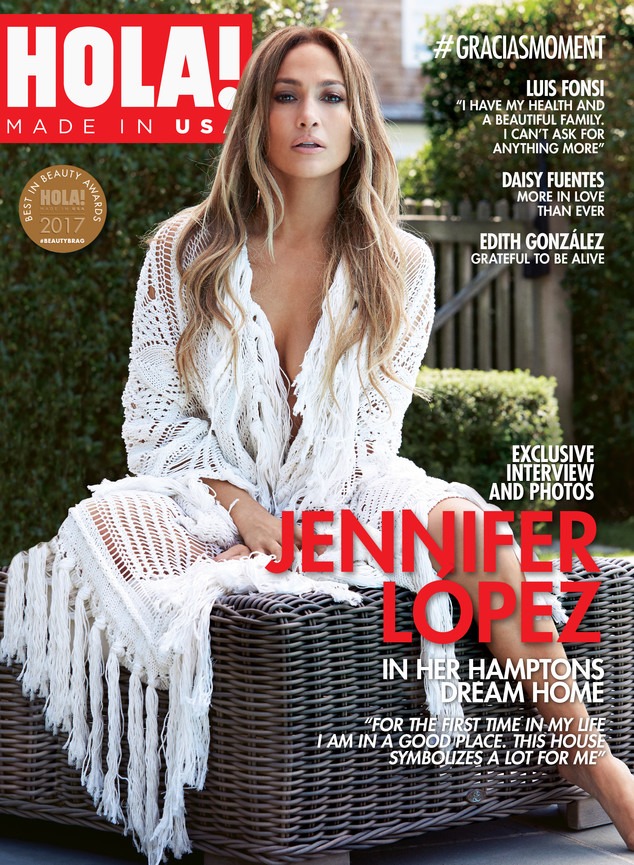 HOLA! USA/Patrick DeMarchelier
Jennifer Lopez is living her best life!
The 48-year-old singer is HOLA! USA's October/November cover star and she gave the magazine a peek inside her Hamptons home which she calls her, "dream house."
"This house symbolizes a lot for me," she tells the magazine. "For the first time in my life, I'm in a really good place." 
It seems that all aspects of the "Ni Tú Ni Yo" singer's life have aligned. She's a mother to her adorable nine-year-old twins Max and Emme, killing it with her Las Vegas residency, starring in hit shows like Shades of Blue and World of Dance, a new album in the works, giving us all #RelationshipGoals with her her new beau Alex Rodriguez, and so much more.
J.Lo's been busy working on her new Spanish album Por Primera Vez (For the First Time.) 
"It's about how we are always kind of reinventing ourselves, experiencing things for the first time, no matter how old you are. There's always a new beginning," she explained when asked about the meaning behind its title.  
And while constant reinvention is crucial for artists, J.Lo also thinks that striving to be better is just as important. 
"Whether I'm singing or acting or whatever, it's like 'Did I do that better than I did before? Is there some growth here? Am I moving forward right now?'" she explains. "Nobody wants to do the same thing over and over, and stay stuck."
HOLA! USA/Patrick DeMarchelier
One could say that, Por Primera Vez is part of Lopez's reinvention. While she says that we can expect a few slower songs that could be similar to her single "Mírate," she promises that it's also electric. 
"One of the things I love most is that it's happy music," she says. "It feels happy and fun, and yes, there are three or four ballads on it."
And all of this "happy" music will also feature some familiar faces like Nicky Jam, Wisin, and Gente de Zona. As we've seen, she isn't afraid to innovate and collaborate with new names.
"I always want to work with new artists and want to do new things, work with whoever has the sound right now," she says. "Because that's what's exciting to me as an artist, musician, and singer, it's to keep trying new things."
HOLA! USA/Patrick DeMarchelier
And although J.Lo admits that she's more comfortable in English, she loves to sing in Spanish. 
"There's just something about it that is more romantic and passionate to me," she admits. "And that's such a core part of who I am. I feel like I sing better in Spanish."
J.Lo released her first Spanish song "Amar es Para Siempre" 18 years ago. Since then she's grown as an artist, singer, and actress. But for the superstar, making peace with her imperfections was essential to all of her growth. 
"I want to be better, and I'm OK with all of it," she explains. "I totally accept myself for all of those things. I'm not here to be perfect, and I'm not here to be anything but my best, whatever that means for me." 
Lastly, J.Lo wisely urges that we should let go and simply learn from the past. 
"What's for you is for you, and everything else you have to kind of let it go," she says. "Learn from it and not fight it."
Visit HOLA! USA to read more from her interview and see exclusive photos from the singer's home.