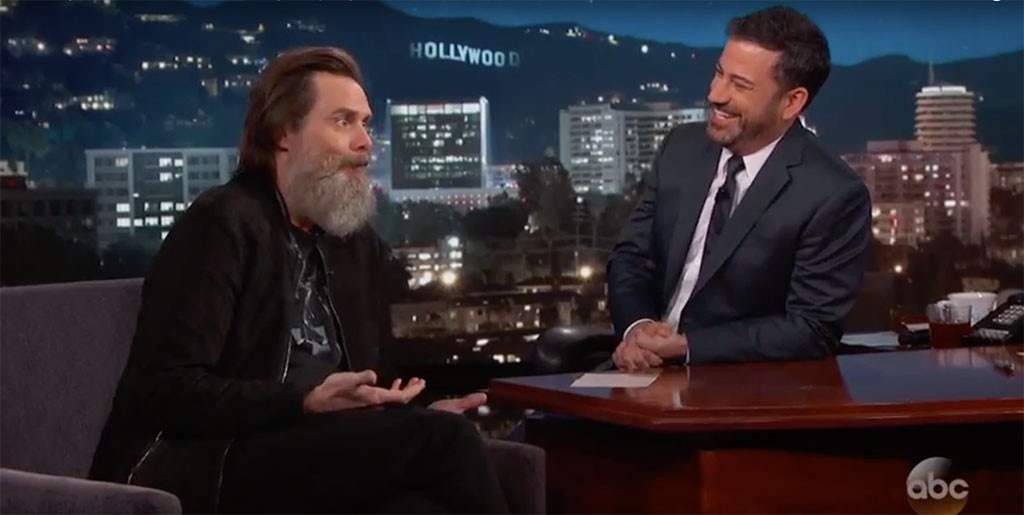 YouTube
Jim Carrey is finally addressing the hairy elephant in the room. 
Amid a retreat from the spotlight, the 55-year-old actor visited the set of Jimmy Kimmel Live Monday night to dish on his new outlook on life and the facial hair that comes with it. 
To start, he's someone outside of Jim Carrey, the star. "Don't get me wrong—Jim Carrey is a great character and I was lucky to get the part," he told Kimmel. "But, I don't think of that as me anymore."
For a blockbuster star that has been in two films in two years, it's clear there's been a shift in his life. "I used to be a guy who was experiencing the world and now I feel like the world and the universe experiencing a guy."
While the comedian is now working behind the scenes, executive producing and writing for a new Showtime series, I'm Dying Up Here, a new star has soaked up his spotlight—his beard. 
"Everywhere I go, people talk about the beard," he pointed out. "They cant really think about anything else."
"Wherever I show up, it becomes this story. It's a bigger star than me. It has its own Twitter."
While he didn't explain the motivation behind his look, underneath the new mane, it was still the same Carrey. 
"The question is not, 'Why are you growing a beard?' The question is, 'Why am I growing a beard and still shaving my balls?" he quipped. "It doesn't make any sense."