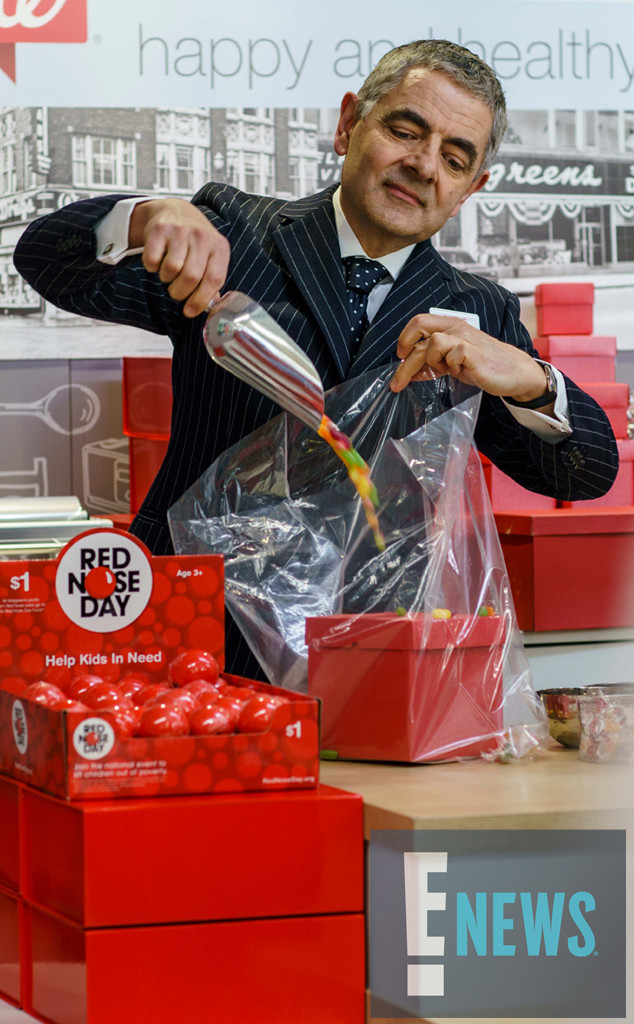 Comic Relief Ltd/Nick Briggs
"'Tis but the work of a moment!"
The cast of 2003's Love Actually has reunited for Red Nose Day, Actually, a 15-minute sequel written by Richard Curtis and directed by Mat Whitecross. E! News has an exclusive photo of Rowan Atkinson reprising his role as store clerk—this time in a Walgreens—selling red noses. We can practically hear him saying, "Oh, this isn't a bag, sir. This is so much more than a bag!"
The multi-narrative short film was broadcast in the U.K. March 24 as part of Comic Relief's Red Nose Day. It will debut in the U.S. with a special addition during NBC's charity telethon May 25.
Several cast members reprised their roles from the beloved holiday movie, including Marcus Brigstocke, Thomas Brodie-Sangster, Colin Firth, Hugh Grant, Keira Knightley, Andrew Lincoln, Martine McCutcheon, Lúcia Moniz, Liam Neeson, Bill Nighy and Olivia Olson. Laura Linney, meanwhile, was starring in Little Foxes on Broadway, making her unavailable to return for the British version. Thankfully, Curtis decided to add a new scene for the actress in NBC's broadcast.