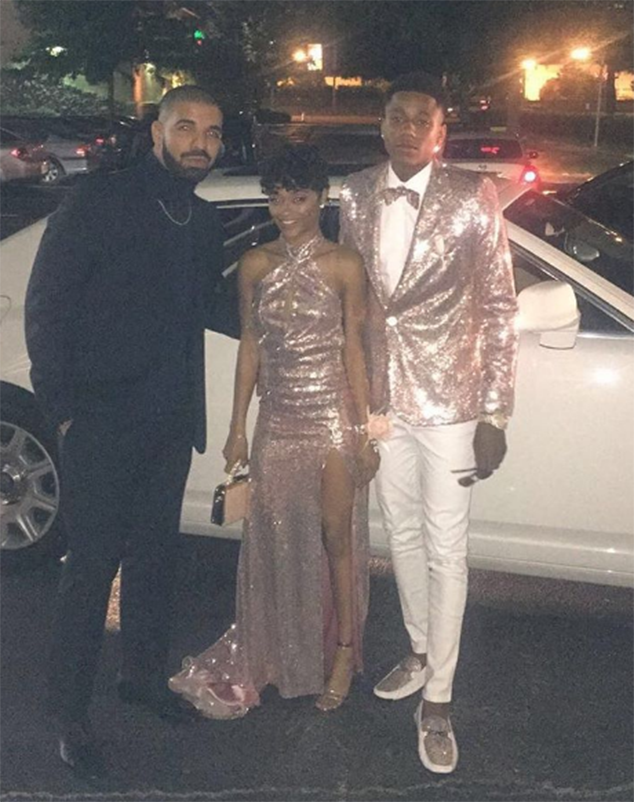 Instagram
If you're forced to have a chaperone at your senior prom, you might as well make it Drake!
Yes, the rapper pretty much sealed the deal as the coolest chaperone in the history of proms after escorting his younger cousin Jalaah to the big dance over the weekend in Memphis.
The soon-to-be Fairley High School graduate shared photos on her Instagram account with her date as well as her cousin, Champagne Papi.
Jalaah dazzled in a rose gold glittering dress, which matched her date who donned the same hue in the form of a suit jacket and bow-tie. Drake, on the other hand, opted for a little more of a subdued look, wearing all black .
Jalaah couldn't help but gush over the experience, captioning the photos, "Best Day Everrrr" with a slew of emojis.
Drizzy also made sure to show his excitement for his little cousin, sharing a photo of the couple on his Instagram account, too.
Though he didn't perform, the publication reports that he did stay at the dance to hang out with his cousin and all the kids. Afterward, he threw Jalaah a party at the Hard Rock for about 400 of her friends.
Not too shabby!