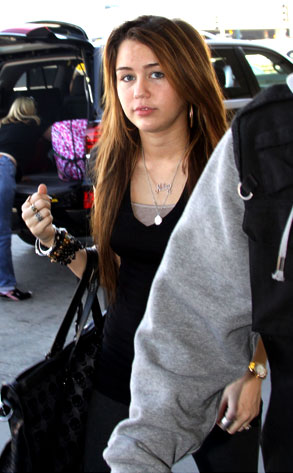 Flynet
Because one photo scandal just wasn't enough…
Miley Cyrus' affinity for candid-camera moments has landed her in hot water once again, this time over a photo in which the star and her friends are seen striking what appears to be a racially offensive gesture, but what the teen queen now insists is the media making "something out of nothing."
In the picture, which made the Internet rounds this week, Cyrus and her posse, including boyfriend Justin Gaston, are shown slanting their eyes en masse. An Asian American friend is the only person in the photo not participating.
At least Pacific Asian American group has called for a public apology, leading Cyrus to take to her blog to defend herself.
"In NO way was I making fun of any ethnicity!" she writes on her blog. "I was simply making a goofy face. When did that become newsworthy? It seems someone is trying to make something out of nothing to me.
"If that would have been anyone else, it would have been overlooked! I definitely feel like the press is trying to make me out as the new 'BAD GIRL'!"
And she doesn't stop there...