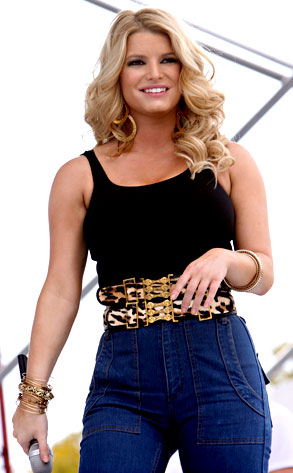 Logan Fazio/Getty Images
Dear Ted:
I just saw a photo of Jessica Simpson at a Macy's event in mid-December, about six weeks ago. The issue isn't that she's gained 20 pounds since her Daisy Duke days; it's that she's gained 10-15 in the last six weeks. My husband (a hospital administrator) thinks she has the bloat seen in patients taking prescription steroids. Has she been ill?
—Wgerow
Dear Heavyweight:
If I had a whole Texas city ready to whoop my ass, you bet I'd be sick too. I'm no MD, but my guess is her weight isn't as much drug related as it is stress and retaliation.
Dear Ted:
Read you every day. Like you, but herpes jokes are not funny. You can make your point without insulting more than a third of all adults who have contracted this virus. You clearly have been fortunate in your own personal life, however "slutty" you may consider yourself to be. Please do us readers, some of whom have this virus (way more common than you think) a favor and stop connecting it with whorish behavior. People can contract this while in marriages, and through no fault of their own (their spouse was the slutty one). Not all people with this virus are whores, and to characterize them as such is not fair, not nice and certainly not funny.
—Just Sayin''
Dear Irritable:
I simply meant John Mayer seems to be a womanizer that never goes away. We'll have to be reporting on his whorish behavior for life.
Dear Ted:
Apparently almost everybody in Hollywood is trying to hide something, like being gay, doing drugs or just being plain mean. Which one is Robert Pattinson's secret?
—Cibelef