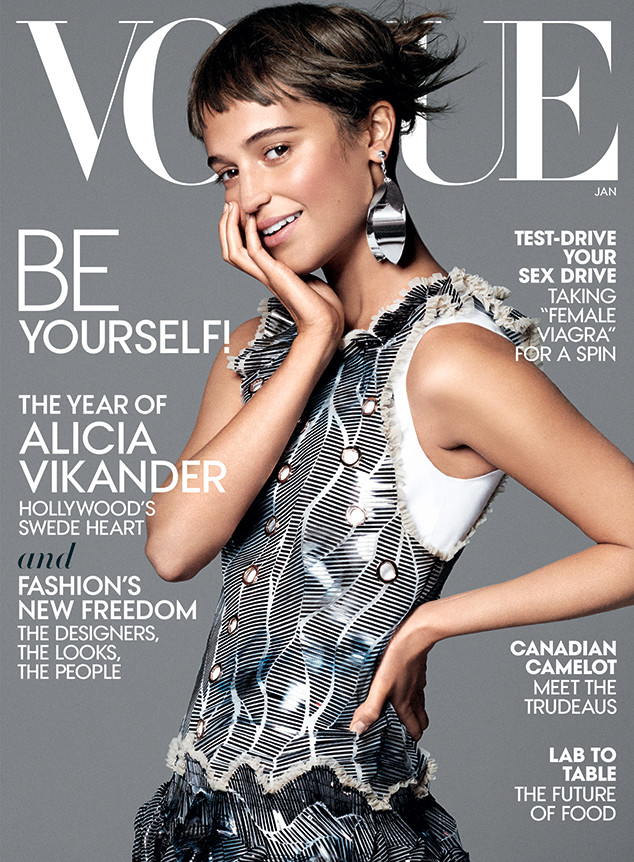 David Sims/VOGUE
Alicia Vikander is the one to watch in 2016.
So, it makes perfect sense that she scored the cover of Vogue's January 2016 issue. E! News has obtained an exclusive first look at the actress' first-ever cover for the magazine, which follows a breakout year that included roles in Ex Machina, Testament of Youth, The Man from U.N.C.L.E. and The Danish Girl. Next year she stars in Tulip Fever, a 17th-century romance, and The Light Between Oceans, co-starring her boyfriend, actor Michael Fassbender. Additionally, Vikander is currently shooting the next installment in the Bourne franchise opposite A-lister Matt Damon.
Vikander recently earned a Screen Actors Guild nomination and two Golden Globe nominations, but hers is not an overnight success story. "To be quite honest, it's nerve-racking, the way these films sort of piled up. It's a mixed feeling when everything you've ever wanted in making films is coming true, and yet you feel scared because it's happening all at once. Suddenly you're in rooms with people you've looked up to for years, the Judi Denches. You wonder if you're good, if you have what it takes," she confesses. "You carry an anxiety around with you—I've met many actors now who will say this—and the lonely feeling that this could be your one chance."
Many directors have taken a chance on Vikander, including The Danish Girl's Tom Hooper. He saw her in Ex Machina and invited her to read with Eddie Redmayne, who was already cast.
"Eddie saw me crying after the scene ended, and he said to me later, 'Well, there's no great suspense around who you're going to cast.' The only other person who's overpowered me in an audition that way was Annie Hathaway when she came in to read for Les Misérables," he said.