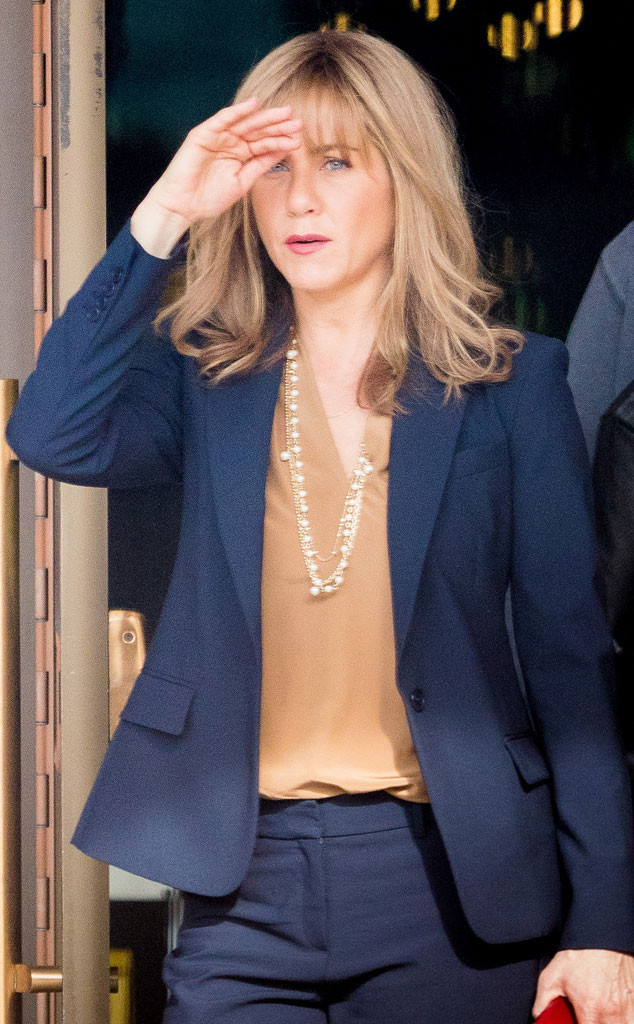 AKM-GSI
The reigning Hollywood hair queen has done it again.
It was quite the surprise to catch a glimpse of Jennifer Aniston as she stepped out in Atlanta on the set of her upcoming movie, The Yellow Birds—one of several new silver screen roles since her last appearance on the big screen in late 2014.
While there is still a lot to learn about her role, one thing is clear—it required a major hairdo update.
The Golden Globe winner was spotted rocking shorter, layered honey blond tresses with freshly chopped fringe. To complete her character's look, she also sported a baggy navy suit jacket and matching trousers with a tan v-neck blouse layered underneath and accessorized with a set of gold necklaces.
However, before we add this new haircut to the actress' gallery of signature beauty looks, we must admit—it's only a wig.
Aniston was later photographed back in her dirty blond locks without any sign of the bangs that originally caught our eye. It goes to show—this woman can really do no harm when it comes to her hair—even if it's just for the hour.