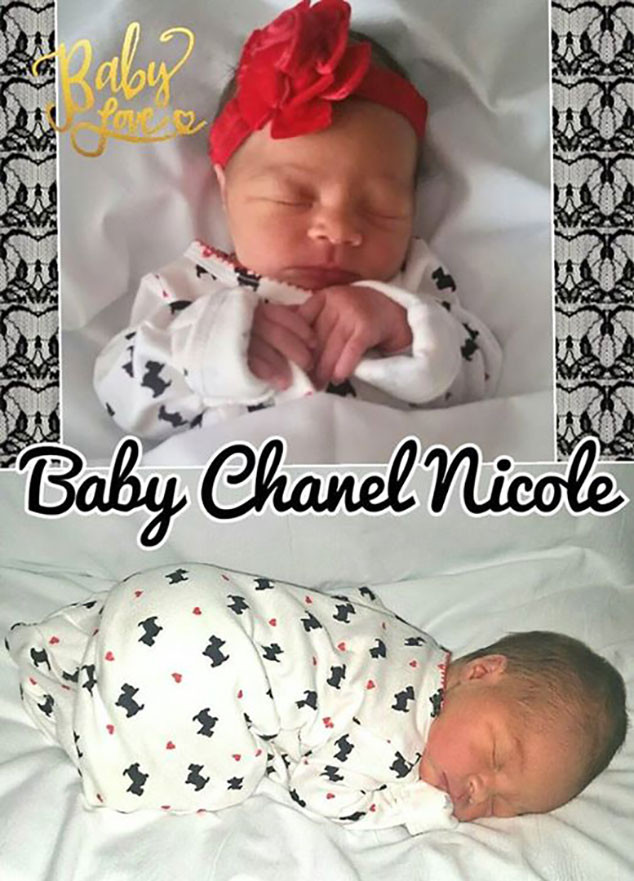 Facebook
There's no doubt about it—Coco's newborn daughter Chanel Nicole is already one glam little girl.
The 36-year-old new mom continues to document every step of her first child's days with new photos posted to her Facebook page Monday.
"Took some hospital pics today! She is so scrumptious," the blond beauty wrote of her tot.
In the new set of pictures, little Chanel is dressed in a white onesie with a pattern of little black dogs adorning it all over. On her head, a red headband with an oversized flower draws attention to the 4-day-old baby's impressive head of growing dark hair.
While Chanel may have inherited her dark locks from Coco and her original brunette tresses, by the looks of these latest photos, the baby already bares a striking resemblance facially to her daddy, Ice-T. Meanwhile, we still can't get over how adorably her little hands are posed!
"I can't get enough of her & she got a full head of hair!! So you know that myth, 'If you have heart burn during pregnancy your baby will have a full head of hair' actually might be true..I really wanted to bust it but can't because I had bad heart burn."