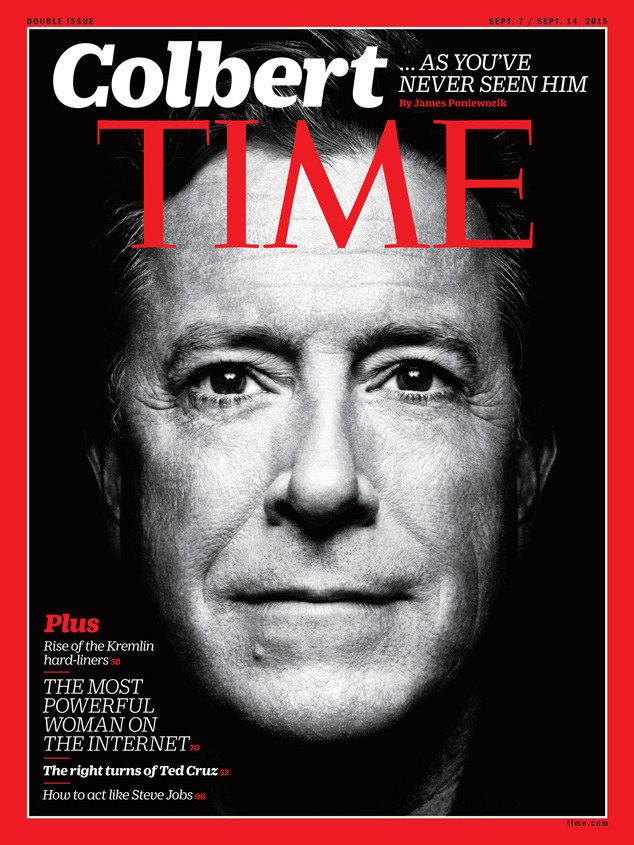 Platon for TIME
Stephen Colbert's upcoming gig as host of The Late Show certainly won't be the first time we've seen the comedian's face on television, but it's just the beginning of our introduction to the "real Stephen Colbert."
"We've got a series of field pieces, packages that are ways for me to try to figure out who that is, as if I don't know who I am," the 51-year-old talk show host, who appeared in character on The Colbert Report for 10 seasons, tells Time magazine. "The unexamined life can be extremely enjoyable, and who knows if I do know who I am. We're going to see whether I do...We're doing a series called 'Who Am Me?'"
Colbert covers the latest issue of Time magazine appearing stone-faced in the black and white cover shot alongside text which reads "Colbert...like you've never seen him." Inside the publication, Colbert dishes on a variety of topics, including his upbringing, his forthcoming takeover for David Lettermanas well as his passion for comedy ahead of his CBS debut on Sept. 8.