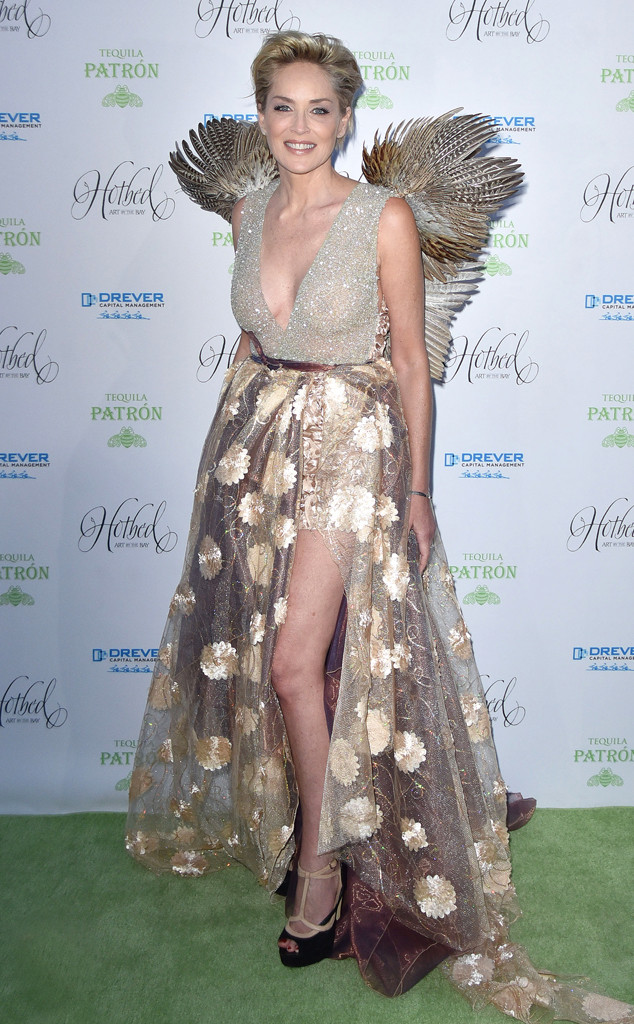 C Flanigan/Getty Images
Winging it are we, Sharon Stone?
While the 57-year-old recently sent jaws to the floor after baring it all for Harper's Bazaar, Sharon had a different head-turning strategy in mind for the Enchanted Garden-themed 2015 Hotbed Gala in Tilburn, Calif., on Saturday. Because instead of, say, sporting a risqué trendy naked dress on the red carpet, she took dressing-to-theme to a whole new level with a few pairs of feathered wings stitched to the back of her gown.
The sparkling silver halter dress features a delicate floral skirt, but still delivered sex appeal with a plummeting neckline and thigh-high slit. Not that anyone paid much attention to the dress itself though, given the wings instantly stole the focus of this airy get-up. By the looks of it, no less than four sets of feathers adorned the actress' back. We'll leave it at this: If this Enchanted Garden gala had a prize for best costume, we know who would take home the gold.
Is Sharon's winged ensemble noteworthy? Yes. But is totally novel? Not so much, seeing as several celebs have donned the winged red carpet gown trend as well.