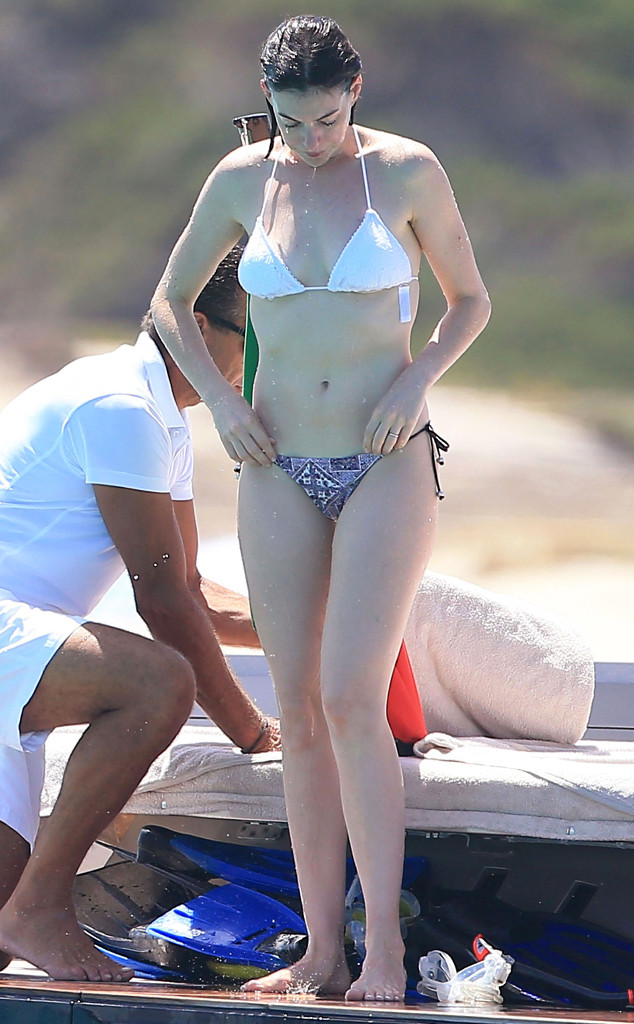 GTRES/FAMEFLYNET PICTURES
Celebrity summers are something to behold.
Whether they're vacationing with best friends in Mexico or enjoying time on Valentino's yacht, they're definitely living the dream. Anne Hathaway is living proof of that, as she and her husband, Adam Shulman, are enjoying time on the haute couture designer's gorgeous boat.
The Oscar winner, 32, and her husband sailed around Ibiza, Spain, with Valentino for two days, putting all of their trim bodies on display in swimsuits. Hathaway's bikinis, of course, captured our eyes as they're not only adorable but they're also incredibly flattering! On Wednesday Hathaway donned a Mara Hoffman two-piece decorated with palm trees and paired it with a sheer cover up.
The next day, Hathaway went makeup free while she went for a swim in the ocean. This time, however, she was wearing a mismatched bikini: a white triangle top paired with a blueprinted bottom. Even though Hathaway had to lose a tremendous amount of weight for her award-winning role in Les Misérables, the star is back to her healthy self, flaunting her incredible bikini body!