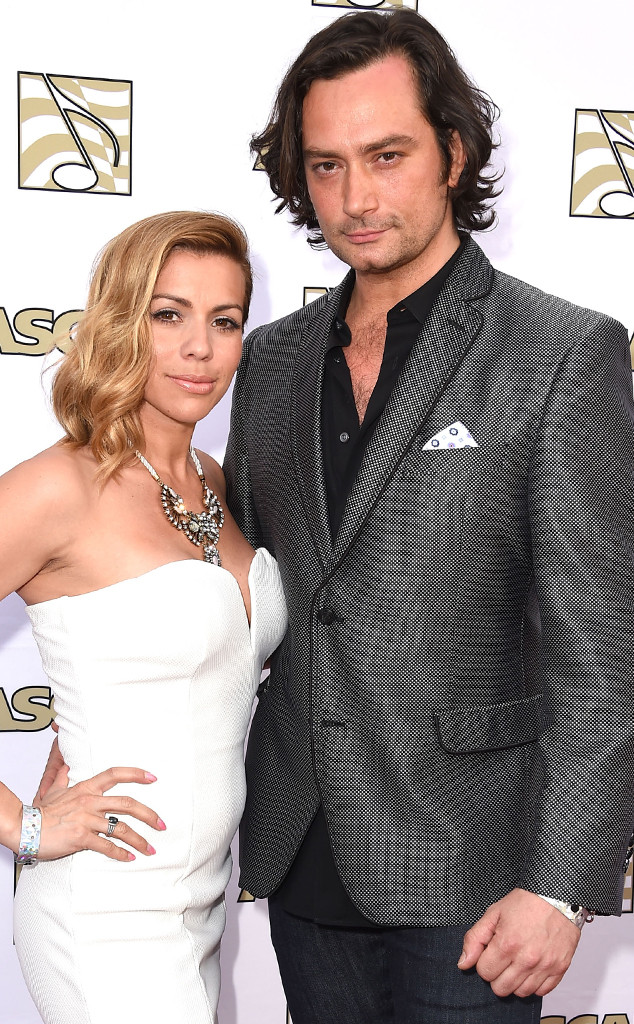 Steve Granitz/WireImage
UPDATE (August 14, 10:22 a.m.): Angelina Rees' attoney has since released a statement on behalf of her client, "It is both repugnant and disgusting that Constantine Maroulis (an also ran on American Idol) would hire a publicist to attempt to victimize the victim, namely Angelina Reed, his girlfriend and the mother of his 4 year old child who he physically assaulted and severely injured on August 11, 2015. Constantine Maroulis, a robust 6' 4", approximately 200 pound man, is a dead-beat dad who has not paid Ms. Reed, a petite 5'4", 115 pound woman, one cent of Court ordered child support since May 2014."
The statement continued, "The parties were living together when Ms. Reed learned that Mr. Maroulis was having an affair with a mother at their daughter's school. As she was collecting her things to leave him, Mr. Maroulis grabbed her by her hair and threw her violently to the floor, resulting in an injury to the right side of her head, and right knee. While she was lying on the floor in a state of shock, Mr. Maroulis viciously kicked her twice in the groin, causing severe injuries and bleeding. Ms. Reed then ran and locked herself in her bedroom and called the police. Hearing Ms. Reed on the phone with "911", Mr. Maroulis ran from the home. As in all cases of this nature, the police arrived at the residence to investigate. When they saw Ms. Reed bleeding and how badly she was injured, they told her they must, by law, find Mr. Maroulis and arrest him, which they did.
The statement concluded, "That night, Ms. Reed was granted a Temporary Restraining Order prohibiting Mr. Maroulis from having any contact with her, their child (who witnessed the event) or returning to the home. In a transparent attempt at damage control to save his career and reputation, the day after he was arrested, Mr. Maroulis appeared in court and claimed that Ms. Reed was the one who physically attacked him. He did not explain how Ms. Reed sustained the injuries to her face, head, leg and groin that the police documented and photographed. This is the second time that Angelina Reed has had to call the police to the home within the past two months as a result of being a victim of domestic violence at the hands of Constantine Maroulis."
UPDATE: Constantine Maroulis' rep confirms to E! News that the reality star secured a restraining order against his girlfriend Angel Reed following the domestic dispute.
_____________________________________________________________
Theater star and former American Idol contestant Constantine Maroulis was arrested and subsequently released on domestic violence charges this morning.
Authorities took the season four finalist in after he allegedly got physical with girlfriend Angel Reed, who is also the mother of his 4-year-old daughter, at their Wyckoff, N.J., home.
The pair reportedly got into a heated argument that allegedly turned into a physical confrontation. Law enforcement sources told TMZ, who first reported the story, that Reed called 911 from their home claiming he threw her to the ground and kicked her in the groin.
However Maroulis' rep tells E! News the former reality star was only defending himself and sustained an injury on his right thigh.
"He did not throw her to the ground or kick her in the groin during this incident," the statement to E! News states. "He consequently left their home to protect himself and to diffuse the situation. Some time later, the local police came and arrested him for domestic abuse. He paid a small bail and was released."