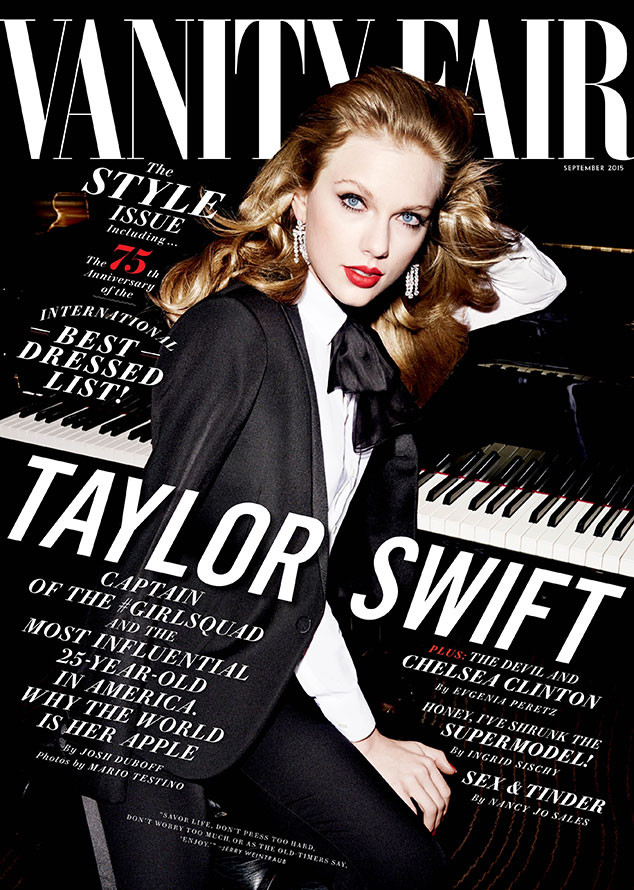 Mario Testino
Taylor Swift is a real-life Cinderella.
Without the aid of a fairy godmother, she has transformed herself from a self-admittedly friendless teen to one of the most popular musicians of her generation. Since last year, the "Bad Blood" singer has been riding high off the success of her first-ever pop album, 1989. Swift is frequently surrounded by a close-knit group of girlfriends that includes Lena Dunham, Selena Gomez, Gigi Hadid, Lorde and Emma Stone. And lest we forget, she is also in a romantic relationship with Calvin Harris, a successful DJ and producer in his own right.
Yet Swift is waiting for the glass slipper other shoe to drop.
"I hope it doesn't turn into something weird, where people have to poke holes in me, which is what's happened every other time anything good has happened to me," she says. "You can't believe too much of your positive hype, and you can't believe too much of your negative press—you live somewhere in between."
It's easy to understand why Swift feels that way. As she explains in the September issue of Vanity Fair, after her high-profile breakups with Jake Gyllenhaal, Conor Kennedy and One Direction's Harry Styles, she resented her public persona. "For the better part of 2012 and 2013, I did not go online, because I didn't like what they were saying about me. And it was so overwhelmingly inaccurate that I knew there was nothing I could do to fight. When the media decides that they don't like you, there's nothing you can do that doesn't seem desperate and irritating to everyone when you try to defend yourself," she says. "So I just had to go into my little emotional bunker and pretend there weren't bombs going off outside."