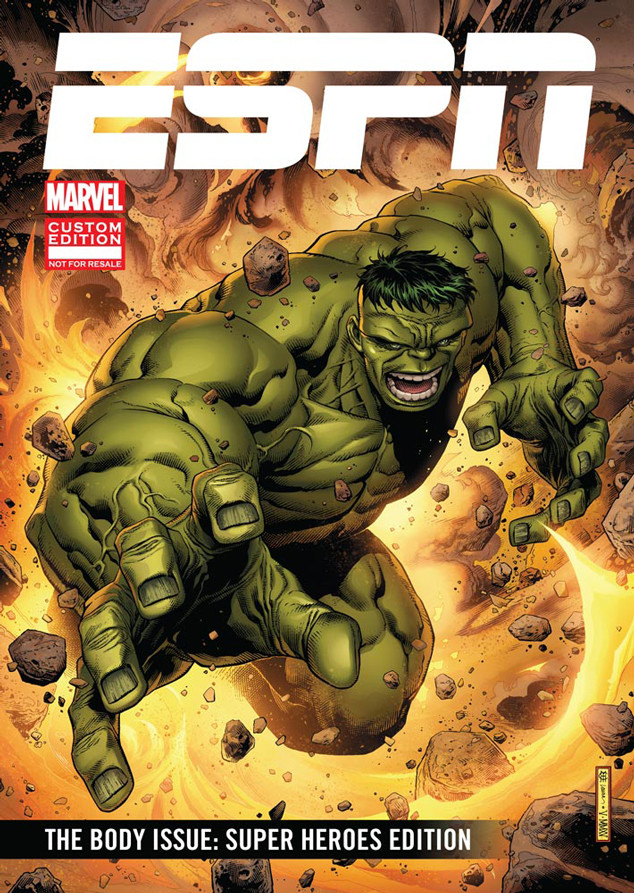 Courtesy Marvel Comics & ESPN The Magazine
The athletes who pose nude in ESPN's "The Body Issue" look unbelievably in-shape, but their famous figures are nothing compared to the likes of Marvel's Ant-Man, Captain Marvel, Hulk and Iron Man—among other iconic characters.
To prove that theory, ESPN the Magazine released "The Body Issue: Super Heroes Edition," a special insert inside this year's "Body Issue," on newsstands tomorrow. Other characters featured include Luke Cage, Daredevil, Iron Fist, Medusa and She-Hulk. These are illustrations, meaning that the actors who play the comic book characters—Paul Rudd, Mark Ruffalo and Robert Downey Jr.—did not strip down.
Marvel's editor in chief Axel Alonso explained the project's origin.
"When comic book artists imagine the physical ideal, they have to start somewhere, and let's face it, professional athletes, whose bodies are fine-tuned instruments, are the closest thing to real-life super heroes," Alonso said of the no-brainer collaboration. "Marvel's Body Issue insert is a celebration of the most iconic super heroes in the world and the athletes that inspired them."
Marvel Comics artist Sara Pichelli was one of the illustrators involved in creating the insert. "For a comic book artist drawing the human anatomy is an everyday job, but here it was matter of celebrating the maximum expression of human muscles and shapes. Creating believable, powerful, and at the same time harmonic bodies is always a challenge. That's why I wanted to be part of this," she said.
Pichelli was responsible for drawing Captain Marvel.