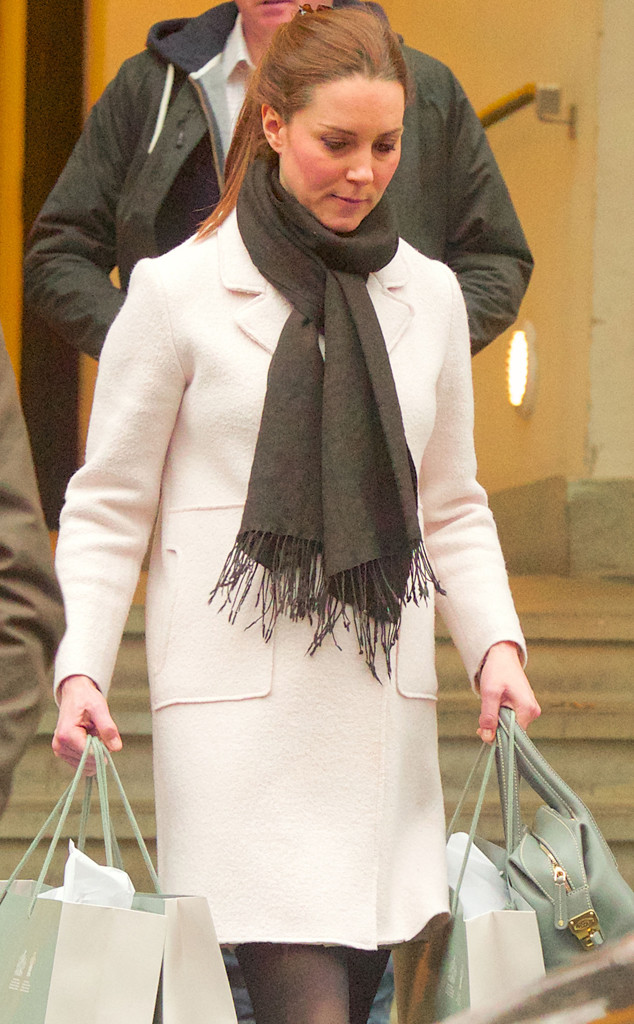 TOPSTAR
Oh, Kate Middleton! You just can't seem to disappoint in the fashion department.
Three days after the Duchess of Cambridge turned 33, Prince William's pregnant wife stepped out for some serious retail therapy in London.
Wearing a bone-white peacoat that concealed a majority of her baby bump, Middleton headed to John Lewis department store in Chelsea where she did some serious damage.
"They shopped for at least an hour," an eyewitness told E! News. "She was with two security guards but Kate carried all of her own bags and they did not look light."
And despite cold winter temperatures, Prince George's glowing mom stayed warm with knee-high boots, black tights and an evergreen scarf. 
While Middleton continues to prepare for her next arrival, fans of the royal family member have been keeping a close eye on the brunette's maternity wear.
To the delight of many observers, the Duchess of Cambridge appears to enjoy luxurious yet still-affordable maternity brands such as Séraphine.
"She just orders like a regular customer, we have an online service, we deliver it at her home," founder Cecile Reinaud recently told E! News. "It happens to be a palace but otherwise it's just like any other regular customer."
While the company admits to designing a few pieces just for Middleton, the celebrity-approved business assures fans that there's a reason behind the extra attention.
"She has a lot of functions where she needs something extremely elegant and formal, which is not necessarily what people would wear on a daily basis, so it's not part of our range," she explained to E! News. "And we love the idea of giving her some unique piece that still reflects the brand."
As her spring due date approaches, Middleton will make sure to stay stylish during her public outings. Most importantly, however, the mom will be focusing on her alone time with Prince George.
"She will be mindful that this will be one of the last opportunities for solo 'George time,'" maternity nurse Sarah Dixon recently revealed to People. "They're making the most of [their time together].
—Additional reporting by Michelle Falls
Can't get enough royal news? E!'s new scripted series The Royals premieres Sunday, March 15, at 10 p.m.! Follow The Royalson Twitter and Facebook for the latest updates!