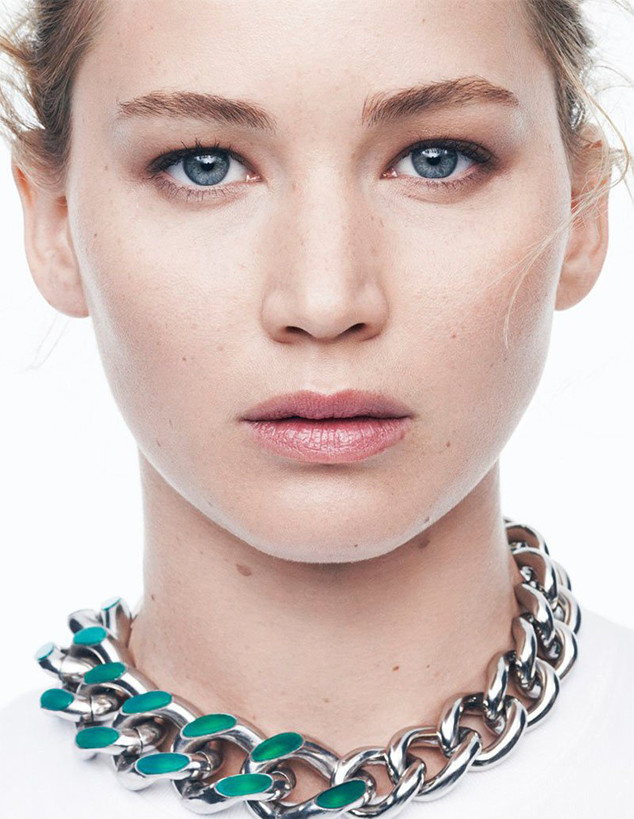 Courtesy Dior/Daniel Jackson
About face!
Jennifer Lawrence stares straight into the camera (and into your soul) in one of the pics from a just-released bunch, which focuses on her face and shows her wearing a silver-plated chain necklace with sea-green and turquoise accents that match and bring out her beautiful eyes. A single wisp of hair, which is tucked into an updo, frames one of her cheekbones.
Another pic shows her outfit—a sleek, white, sleeveless, crewneck top tucked into a black, slightly flared mini skirt with side slits and buttons. She is carrying a cobalt blue purse.
Courtesy Dior/Daniel Jackson
A third pic shows Lawrence posing to the side. She's wearing a black dress of a similar style and white lace collar.
Courtesy Dior/Daniel Jackson
A fourth photo shows the actress in a black and white printed cutout dress with a parachute skirt.
Courtesy Dior/Daniel Jackson
Lawrence was named a spokesmodel for Dior in 2012, following in the footsteps of  celebrities such as fellow Oscar winner Natalie Portman and the actress' Black Swan co-star, Mila Kunis. Lawrence wore Dior Couture to the Oscars (and fell in Dior Couture at the Oscars) twice—  in 2013, when she won an Academy Award for Silver Linings Playbook, and at the 2014 ceremony's red carpet.
In January, Lawrence extended her contract with Dior for three years (find out for how much!).
"I really would not call myself a fashion icon," Lawrence told E! News. "I would call myself somebody who gets dressed by professionals. [It's like], 'Dance, monkey, dance' right on the red carpet.' I would call me more of a monkey."
The new photos were published just ahead of the release of  The Hunger Games: Mockingjay - Part 1, which hits theaters on Nov. 21.
Lawrence reprises her role as heroine Katniss Everdeen in the third installment of the hit sci-fi movie series, appearing with other returning stars, such as Liam Hemsworth, Josh Hutcherson and Woody Harrelson.
The latter actor recently hosted Saturday Night Live and the other stars made cameos (check out five highlights from the show, plus videos).
Update: Despite the Internet's widespread excitement at the prospect of another J.Law and Dior collaboration, a rep for the fashion house tells E! News these shots are actually from an unrelated editorial shoot. Not to worry though, the Oscar-winner is sure to model the French brand again—maybe even tonight at the Los Angeles Mockingjay premiere.