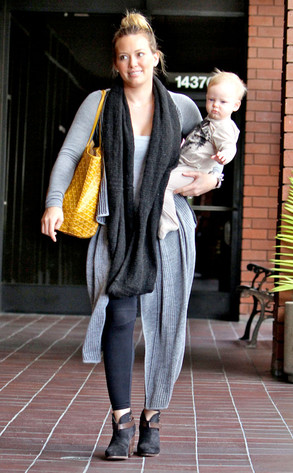 Jacson / Splash News
Hilary Duff is clearly over the moon following the birth of her first child, Luca. (Um, have you seen all those baby pics she's been tweeting? Here's more, just in case.)
But according to the 25-year-old star, she and hubby Mike Comrie, 32, may not be dunzo yet when it comes to going down the baby way: The new mom revealed that they're open to giving lil' Luca a sibling.
"Mike and I are literally so obsessed with Luca," she told Access Hollywood. "We're like, 'He's perfect. We should just be one and done.' But I think once your baby starts getting older, you miss that baby phase and you go in for round two. But I think maybe when [Luca's] 2, 3?"
We'll hold out hope for that: Judging by those priceless twitpics of Luca, the couple certainly know how to show off their gorgeous celebutot!