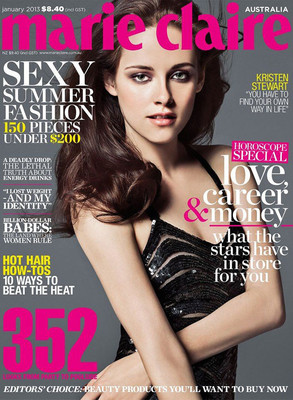 Australian Marie Claire
The Twilight Saga may be officially over, but Kristen Stewart's not slowing down anytime soon.
The wildly successful 22-year-old star stuns on the cover of Marie Claire Australia's January 2013 issue and talks fashion, fame and the next chapter of her life, post-Bella Swan.
"I'm sort of bored now," she confessed to the mag. "I wanna work on something and maybe it doesn't have to be an acting job. I've been hanging out with my dogs and my family and, to be honest with you, I'm still catching up on sleep. I've worked for two years solid, literally since Eclipse. But I'm itchy now. I wanna do something."