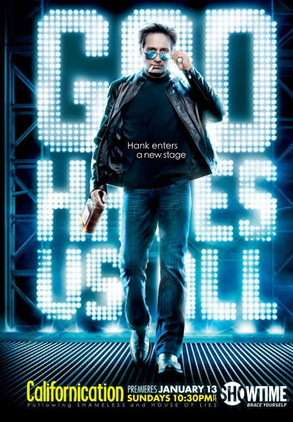 Showtime
The new season of Showtime's Californication is right around the corner (Jan. 13!), and we have the exclusive first look at the promo art to help you prepare for the return of Hank (David Duchovny).
In season six, Hank's hit novel "God Hates Us All" that was adapted into the film A Crazy Thing Called Love is now being adapted into a Broadway production, and with that comes great guest stars to help make the musical happen. Australian comedy star Tim Minchin will play Atticus Fetch, the crazy rock star responsible for writing the music for the production. Fetch decides that he must collaborate with Hank on the project, so you can only imagine how well that will turn out. Maggie Grace is also guest starring as Faith, a rock groupie, and Marilyn Manson is set to appear in two episodes this season.
Check out the first poster promoting the new season, and set your DVR's for the return of Californication on Jan. 13!