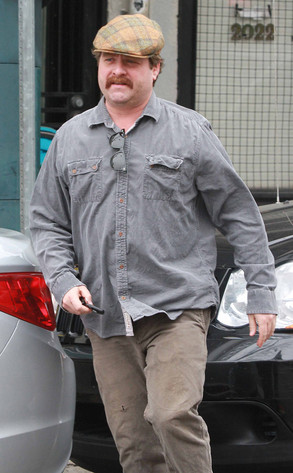 FameFlynet, Inc.
So much for the best friend that anybody could have. Zach Galifianakis has shaved his beard!
The no-longer hirsute funnyman was spotted leaving upscale New Orleans barber Aidan Gill on Wednesday with his mustache intact—but without the rest of his trademark facial hair.
Did he lose a bet? How is he going to keep warm on those frigid North Carolina nights now?!
It's unclear if he got a shave and a haircut there, but he did reportedly emerge from the Garden District shop carrying man-grooming gifts for his Dog Fight costars. The political comedy, due in theaters Aug. 10, also stars Will Ferrell, Jason Sudeikis and Dylan McDermott.