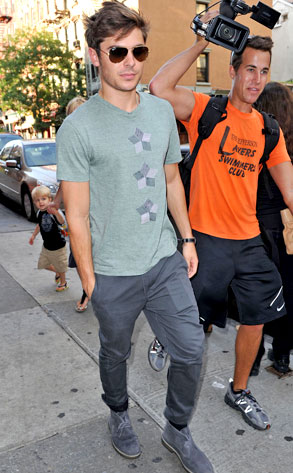 Bauer-Griffin.com
Dear Ted:
Is it just me or is Zac Efron suddenly talking a little more about his relationship with Vanessa Hudgens? He's talked about her in almost every interview he's done for the past two weeks. I mean, it's still nothing compared to the vast majority of Hollywood couples, but he seems to be finally acknowledging that Vanessa exists. It seems quite convenient, seeing as he has a new movie coming out. So, is it all for publicity, or is he more in love than ever? And what do you make of Zac's recent trip to a strip club?
—C
Dear Head in the St. Clouds:
Better question: is it just me or has Zac Efron been looking über-delicious lately? But I guess I'll answer your questions too. That's the way Zanessa work—keep it super low-key until there's a new project to pimp. As for the strip club ordeal, who cares? The dude is definitely of age and no sordid stories came from his little peepshow pit stop, so if he wants to blow his dough on a night of boozing and boobs, I say go for it.
Dear Ted:
I know Lost castmembers always talk about how great and wonderful everyone and everything on the set was, but that seems a bit hard to believe. What was it really like for them working in Hawaii all those years? Any secret affairs between some of the actors, drug use or ego-trips etc.?
—Angela
Dear Hawaii Five-Oh No:
Less secret affairs or drug use (unless you count alcohol, of course, but we all know that seeing as the cast collectively racked up a handful of DUIs) and definitely more egos. Lots of egos, and occasionally clashing egos.
Dear Ted:
In regard to the potential tell-all Twilight book, I have a question: Who is most nervous about its contents, and does that person's name rhyme with Slashley Bean?
—Steph