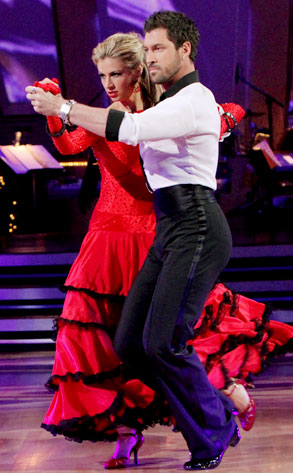 ABC/ADAM LARKEY
Dear Ted:
Try and find out for us if Erin Andrews is dating Maksim Chmerkovskiy. Some say she is breaking it off with Maks. Hope this is false. They make such a great couple. She seems to be head-over-heels for him.
—F
Dear Ermak:
Damn, these two almost have more breakup rumors hitting the tabloids than Robert Pattinson and Kristen Stewart! But don't worry, the dancing duo is still as together as they ever were—on the down-low, 'course, sneaky bitches. And you may not want to hold your breath on Maks popping the big Q anytime soon, these two are having way too much fun for that. Good for them!
Dear Ted:
After E! released this picture I think it's really time for you to spill some new dirt on Britney Spears! What in the world is going on with her?
—Sarah TV
Dear Hair Raising:
While this hair travesty (sorry for the understatement) is definitely not OK, it is OK with Brit because she doesn't care. Not like crazy style not caring, but regular country bumpkin Britster not caring. Honestly, the biggest problems the babe has right now are laziness and bad driving.
Dear Ted:
Is Teddy O'Bong the adorable, lovable, oh-so-doable James Franco? I was totally convinced by his character in Pineapple Express. It must have been Method acting, right?
—Ms. M