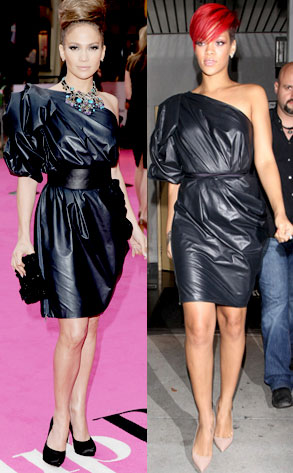 Gareth Cattermole/Getty Images; Hellmuth Dominguez/PacificCoastNews.com
It's hard to imagine anyone trying to rock this crazy Lanvin trashbag dress, let alone two stars doing it.
But here we have Jennifer Lopez at the London premiere of The Back-Up Plan in April. She accessorized the crazy dress with more craziness—turquoise necklace, sky-high cinnamon roll hair, black heels and a whole lotta diva 'tude.
Rihanna, meanwhile, kept the fuss to a minimum—well, as minimal as it can get considering her hair is still the color of fire—while out for dinner last night in L.A. She paired it with a skinnier belt and nude pointy-toe stilettos.
So which diva looks fiercer in her Hefty-esque couture? Weigh in below!