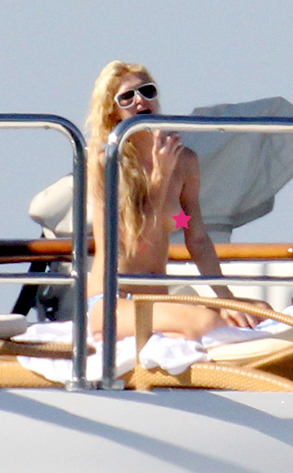 Ciao pix/INFphoto.com
This is certainly one way for Paris Hilton to show she's not carrying around anything illegal.
Despite the fact that the heiress has been stopped not once, but twice for allegedly being in possession of marijuana, such setbacks clearly haven't kept Paris from being, well, Paris. All the while taking the time to tweet about it to us common folk.
However, her latest leap into the lap of luxury—sunning topless on a yacht in Sardinia this weekend—has forced Paris to make a bit of a mental reminder.
"Note to Self - Beware," she tweeted today. "You never know when some perv paparazzi may be lurking and hiding on a fishing boat in the middle of the ocean."
Because if there's one person who needs a reminder about those pesky paps, it's the very private Paris.