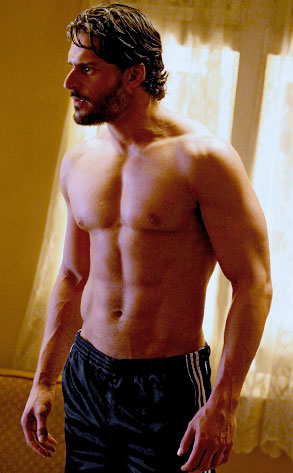 John P. Johnson/HBO
Sure, we love the witty one-liners and bloody fang-tastic plotlines on HBO's vamp hit True Blood, but let's be honest, there's one sexy reason we tune in week after week: those dudes' delicious bodies.
And with the amount of male nudity the show, we get more than an eyeful of the many manly bods: Alexander Skarsgard's bulky pecs, Ryan Kwanten's chiseled abs and Sam Trammell and Stephen Moyer, both blessed with their fair share of yummy junk in the trunk.
Last Sunday's episode treated us to newbie Joe Manganiello's absolutely drool-worthy physique and left us with nothing to say but damn. When it comes to werewolves, Taylor Lautner's über-abs don't even compare to newbie Alcide's six-pack.
But screw debating which fella has the finest figure, we're more interested in what all the guys have in common: