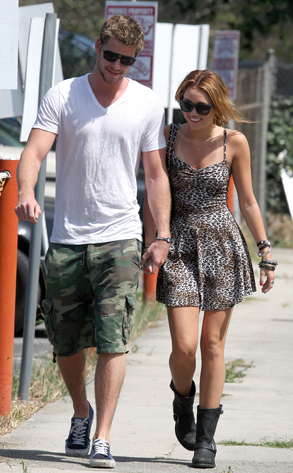 Matt Symons, PacificCoastNews.com
Dear Ted:
What do you think of Miley Cyrus' statements about Liam Hemsworth being anything but romantic? She says he only does romantic things because that's what he does in his movies and she can't find his gestures genuine.
—Nikki
Dear Cy-borg:
Ah, you're just adding to the fodder for the big Niley reunion that I'm planning. Hittin' the newsstands September 2010, I say. Doesn't surprise me about Liam, though—how else is the guy supposed to get famous?
Dear Ted:
Something is just not right with the Britney Spears photo on the cover of this month's Cosmo. It almost looks like they Photoshopped her face on someone else's body.
—Amanda
Dear Mother Mode:
Agree, it looks totally wonky, but via some intense tattoo inspection, the bod does seem to belong to Britster herself. Team Cosmo—or more likely Team B—must have liked the puss from one shot and curvy figure from another and tried to combine them into a sort of FrankenSpears. Makes you wonder what the ef the editor was thinking giving the OK on this cover. Tho to be fair, most Cosmo covers aren't exactly works of Photoshop magic.

Dear Ted:
I doubt Robsten will officially come out anytime soon, but do you think they will be more open with their PDAs?
—Cara