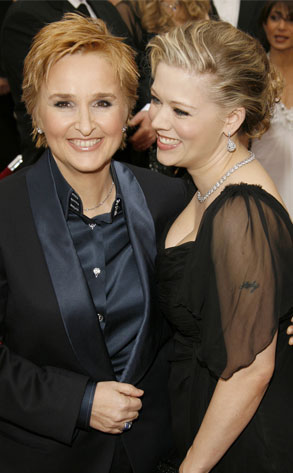 Lester Cohen/WireImage.com
Dear Ted:
I just read Melissa Etheridge is acting like a douche in her split with Tammy. No spousal support? After she quit her career to take care of her kids? Seriously? Ever since they split and since reading how she's been acting toward Tammy, I have zero respect for her now. An inch away from a deadbeat mom. Call her out on this!
—Sunny
Dear Ex-Post-Effed 'Em:
Sure, Melissa and Tammy's split might not be the most cordial because of flaws on both sides, of course, but they are a couple just like any other twosome, and some people don't always part on the best terms. As for the children, both ladies can put their problems with each other aside to make sure the kids are well taken care of. Melissa won't let any hostility get in the way of that.
Dear Ted:
Being a huge Harry Potter fan I was just wondering what the gossip was about Emma Watson and her BF George Craig? Anything interesting going on there? We never hear much about her so I was just wondering. And what really happened between her and her ex.
—Ailish
Dear Hermoine's Hairier Half:
Co-ed Emma is pretty damn normal by T-town standards—but that's probably because she tries to completely avoid this Young Hollywood lifestyle. And that includes her romance life. Like any other teen, hers is bound to have its ups and downs (hence the ex), but Emma and her dude are happily normal right now. No goss yet, sorry!
Dear Ted:
Does Terry Tush-Trade have a type? Does she go for Bettys or Veronicas?
—Stu