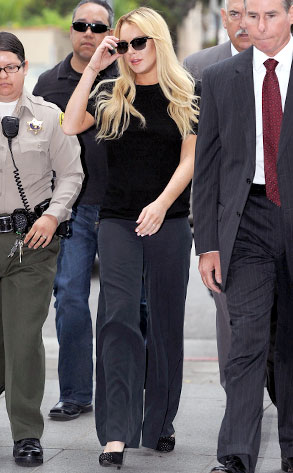 Frazer Harrison/Getty Images
Take one look at Lindsay Lohan's courthouse couture and you know she means business.
Linds attended a hearing today in Los Angeles related to her DUI case dressed superconservatively—and appropriately, we might add— in a plain black blouse, gray slacks and black pumps, her blond tresses neat and tidy.
That's huge, because celebs usually feel the need to be a little different—that's the nature of the beast.
But with no signs of blingy jewelry, revealing leggings, cleavage or flashy designery duds, it looks like the stripped-down star is taking her legal matters very seriously.
So what do you think of Lindsay's court style, and will the subdued getup help her cause?