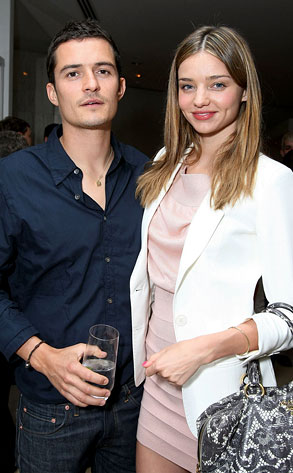 Alexandra Wyman/Getty Images
Dear Ted:
Will Orlando Bloom and Miranda Kerr's engagement have the same fate as Hayden Christensen and Rachel Bilson, or will they actually make it to the altar?
—Melia
Dear Wedded Woes:
Orli and his model fiancée will definitely get further down the aisle than Hayden and his on-off OC hottie...but that's not saying too much, is it?

Dear Ted:
OK, I thought I saw the weirdest couple when I saw Russell and Katy but apparently Nikki Reed and Joe Jonas are dating. I think I know the answer but is this for realz or is it taken from the Almighty Book of Jonas Publicity Stunts?
—R
Dear Double Take:
They're definitely not together, babe. Nik was just out with a super cute guy not J.J. last week. But kudos to the second cutest Jonas for getting his name attached to some Twilight headlines, right? As for Katy and Russell, don't be so mean, doll! We think they totally work together.

Dear Ted:
Besides Parrish McGuire, has Priscilla Dessert dated any other BV?