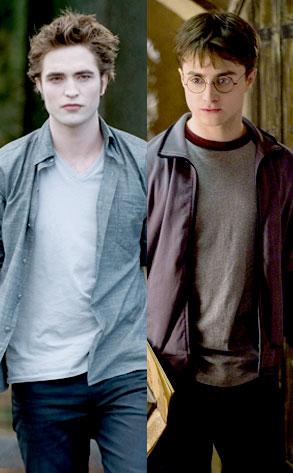 Summit Entertainment; Warner Bros.
Dear Ted:
Just wondering what you make of Deathly Hallows trailer being top of the Trending Topics list on Twitter three days in a row, while Eclipse never made it on the list at all. I'm a huge Twilight fan, but to be honest, the Harry Potter trailer slightly overshadowed my excitement for Eclipse. Is that the case with many people?
—Ailish
Dear A-Lister:
I sure as hell don't want to piss off either franchise's fans, but if you look at my frenemy Answer B!tch's article, the people—en masse, at least—prefer Potter & Co. And for the record I think the trailer is pretty awesome. Me, I'm a Twi-hard, but I know that Team Awful is pretty split!
Dear Ted:
I know Johnny Depp and Vanessa Paradis like to keep a low profile when they aren't working, but what is their relationship like behind closed doors? Love them both, but you don't hear much about them.
—Leigh
Dear French Exchange:
The couple is fairly low profile in front of the camera and behind the scenes. Hate to break it to you, babe, but there isn't much drama in this relaysh.
Dear Ted:
How's the relation between Priscilla Desert and Tobey Yum-Yum and his family? Better than before or still bitter?
—Celina