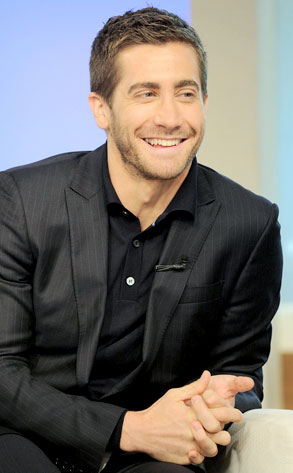 Bill Davila/startraksphoto.com
Dear Ted:
Our rescue kitty, Trudi, is dying to know what is up with Jake Gyllenhaal. So many people think Jake is gay, but Trudi saw recent photos of him checking some girl out as she climbed some stairs. Did he do it to throw off the paps, or is he actually straight? (I don't think you can out someone as straight can you?) Inquiring kittens want to know...
—Treefon
Dear Yeah, Right:
I'm so sure Trudi is bypassing the catnip and the treats you spoil with her so she can check out the latest tabloids, uh-huh. Regardless, tell "Trudi" that Jake was checking out a pretty girl because that's what people who like sexy, pretty people do. The woman was a looker; he looked. End of story. Add to that, however, that Jake wants you right where you are: wondering. He's adamant that his intimate side remain his. Remind you of anybody else?
Dear Ted:
There's been a lot of discussion over the last two years concerning the time line of Robert Pattinson and Kristen Stewart's relationship. Assuming, based on a recent Bitch-Back, that originally the whole "are they or aren't they" debacle was per Summit's doing, then when did their actual romance start? Many devoted followers believe that around the time the Twi trinity went to Japan to promote New Moon Rob and Kristen decided to stop listening to Summit's gag orders and began an already budding relationship. My rescue puppy, Layla, says she loves you!
—LJG
Dear Almost There:
These devoted followers you speak of are incorrect, technically. Robsten decided to do just as they pleased earlier—and they've decided to keep that stance (and explain themselves to no one) ever since. Messy licks right back to Layla!
Dear Ted:
Now that Jake the Bachelor shockingly broke up with the girl (sarcasm), he and Kate Gosselin should get together. Fame seekers unite!
—Jasmolak