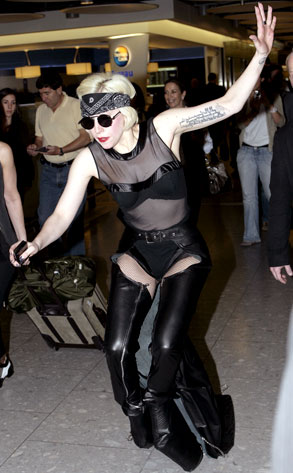 INFphoto.com
Talk about suffering for fashion.
Yesterday, cameras caught Lady Gaga taking a spill as she teetered through London's Heathrow airport in sky-high boots ( to go with her leather chaps, bra and sheer top, natch.) Oof!
The "Poker Face" singer and outlandish fashionista hadn't met a crazy costume that she couldn't work, but these Herman Munster shoes finally got the best of her. Fortunately, she wasn't injured in the fall.
But maybe it's a sign Gaga should take a break from the insanity before one of her bones actually breaks. It's getting a little old anyway.